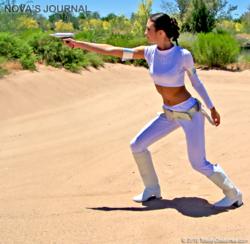 Star Wars has captured the hearts and imaginations of millions of people around the world. It is like no other story of our time.
Mancos, CO (PRWEB) September 01, 2011
Totally Costumes, a leading retailer of Halloween costumes and costume accessories, is proud to be offering such a large selection of Star Wars costumes for fans and movie lovers. TotallyCostumes.com continues to expand the variety of their Star Wars costumes and accessories for all ages including their popular kids Star Wars costumes.
"Star Wars has captured the hearts and imaginations of millions of people around the world. It is like no other story of our time. It engages, excites and inspires us ... even 34 years later!" exclaimed Nova of TotallyCostumes.com. She is a fan of the Star Wars movie series and even has done a Star Wars cosplay in the Padme Amidala costume.
The new items from the Star Wars Costumes collection include a Shadow Trooper, Jawa, General Grievous and an Inflatable Tauntaun Costume. The Star Wars Inflatable Tauntaun Costume is already proving to be a popular item for 2011 with its self inflatable Tauntaun body jumpsuit with battery-operated fan. Simply slip on the deflated Tauntaun costume, turn on the battery-operated fan, zip-up and wait while the costume inflates in seconds. The blowing fan allows the costume to deflate and inflate with the wearer's movement making walking, sitting and standing hassle free.
Customers can choose their path in one of the many different Jedi Knight Star Wars costumes that are being offered for all ages. The selection of Star Wars Jedi Knight costumes at TotallyCostumes.com include a variety of familiar characters including Luke Skywalker, Obi-Wan Kenobi, Master Yoda, Anakin Skywalker, Qui-Gon Jinn and Plo Kloon. For the girls and women of the Jedi order, fans will find the young female padawan Ahsoka Tano costume. Costume enhancements are available through officially licensed Star Wars costume accessories such as a toy lightsaber, gauntlet gloves, Jedi robe, blaster weapons, contact lenses and character masks.
Many well-trained assasin and dark sith lord Star Wars costumes are available for consumers that prefer the dangerous powers of the dark side of the Force. Girls and women with an eye for evil will enjoy the Asajj Ventress costume, a female Rattataki Dark Jedi who served as one of Count Dooku's Dark Acolytes. Boys and men can choose from other Star Wars costumes of the dark side such as the evil Emperor Palpatin, the sith Darth Maul or even the Dark Lord of the Sith himself, Darth Vader.
For those that wish to wield a blaster as their weapon of choice to fight for the Republic, there is a variety of Star Wars costumes including bounty hunter assassin Jango Fett, his son Boba Fett, X-Wing Fighter Pilot uniform, Han Solo, Clone Trooper or an E-Wok warrior. All the loved and classic Star Wars characters are also available in Stormtrooper, C-3PO, Chewbacca, R2D2, Jabba the Hutt and Rex the Clone Trooper Leader costumes. Female fans of the Star Wars episodes have costume choices for Queen Amidala of the Naboo, Princess Leia in her white gown, senator Padme Amidala in her Geonosis battle outfit, Leia Organa in her slave outfit and a variety of Jedi Knight attire.
Star Wars costume accessories and Star Wars costumes are offered by TotallyCostumes.com at discounted prices in styles for infants, toddlers, children, teens, adults and plus sizes. The selection is also complete with Star Wars pet costumes for dogs and cats. Benefit from their same day shipping on orders placed before 1:00pm MST for the Halloween 2011 season.
About the Company:
TotallyCostumes.com, a leading retailer of Halloween costumes and costume accessories for all occasions, makes sure the party never stops! This e-commerce costume retailer believes in carrying a large selection of high quality costumes in all sizes, styles and themes to fulfill any party, costume or event requirement. They have a dynamic team that works together so their customers receive their order quickly. Their friendly customer care team is dedicated to providing their customers with diligent service while their shipping facilities work efficiently in shipping your order out as quickly as possible.
###