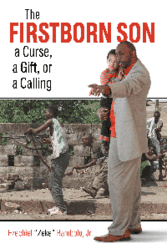 His ultimate message is a call for firstborn sons to take up their birthright to reinforce the legacy of family and faith.
Bothell, WA (PRWEB) September 08, 2011
This book is a breath of fresh air in the discussion on the role of fathers and sons in today's society. It challenges fathers, sons, mothers and other authority figures to change their belief on the role of a firstborn son to serve everyone more effectively, focusing on the son's relationship with God to provide stability in the family and society. The author writes of his desire "to share the message and reclaim the virtue of the birthright to the firstborn son in our homes, society, and the world."
In The Firstborn Son, the author provides real-life experiences and documented statistics – not just theoretical approaches – to emphasize his point. As a firstborn son of teachers, Bambolo is uniquely positioned to accept the challenge to embrace God's core values in his own family. He calls on parents, especially single mothers, to instill principles in their sons, especially firstborn sons, so they become protectors like God's firstborn son, Jesus Christ. In just one example from his life in war-torn Liberia, Bambolo describes efforts of rebel freedom fighters to recruit him. His faith and knowledge that he had several young men and brothers looking up to him gives him the courage to resist. His ultimate message is a call for firstborn sons to take up their birthright to reinforce the legacy of family and faith.
Author Ezechiel "Zeke" Bambolo Jr. came to the United States in 1991. Bambolo, who was born in Liberia, West Africa, was forced to leave his family during civil war. He has been married for more than 12 years and has two children. The collegiate athlete is an award-winning consultant for corporate America. He serves as a deacon and has worked with men's discipleships and accountability groups for more than a decade.
For for more information, visit http://www.thefirstbornson.com
THE FIRSTBORN SON: A CURSE, A GIFT, OR A CALLING
Ezechiel "Zeke" Bambolo Jr.
Dog Ear Publishing
ISBN: 978-145750-369-6 200 pages $15.99 US
Available at Ingram, Amazon.com, Barnes & Noble
and fine bookstores everywhere
About Dog Ear Publishing, LLC
Dog Ear Publishing offers completely customized self-publishing services for independent authors. We provide cost-effective, fast, and highly profitable services to publish and distribute independently published books. Our book publishing and distribution services reach worldwide. Dog Ear authors retain all rights and complete creative control throughout the entire self-publishing process. Self-publishing services are available globally at http://www.dogearpublishing.net and from our offices in Indianapolis.
###