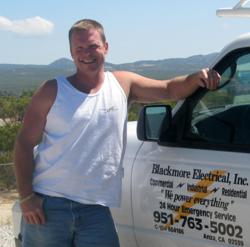 Murrieta, CA (PRWEB) September 01, 2011
Lead by Brian Blackmore, Anza resident and California licensed C10 electrician, the Blackmore Electrical team attends to all electrical needs, now including solar photovoltaic residential and commercial systems for on-grid and off-grid applications.
"With energy costs consistently on the rise and federal policy pushing green energy requirements all over the country," said Blackmore, "we decided that now is the time to make the investment in our company and our community and become fully trained in solar PV. So, we joined forces with Ambassador Energy, graduated their training program and now receive on-going cutting-edge technology and field support from their organization, which includes three NABCEP certifications and a long list of contractors' licenses. With AE as our back-end solar support center and our knowledge of our community and clients, we are confident in our ability to help bring Anza and surrounding areas into the solar movement."
"Even here in Anza, where our utility rates are somewhat reasonable, we are not immune to the escalating costs of powering our homes and businesses," continued Blackmore. "I believe that it is just a matter of time before the majority of residents and building owners will be using the sun to generate the bulk of their power usage. We are excited to help determine if solar energy is cost effective for any specific situation. Usually people want to know if going solar makes financial sense, and we can tell them that with the quotes we do. It is really a very interesting process."
To take advantage of the energy from the sun and get a quote within 24 hours, contact Blackmore Electrical for a free comprehensive quote.
About Blackmore Electrical, Inc.
Blackmore Electrical, Inc. is a family owned and operated business centrally located in Anza, CA, offering residential and commercial electrical and solar services, decorative custom interior and exterior lighting for new construction and remodels/renovations.
About Ambassador Energy
Ambassador Energy (AE) is a solar training and distribution company, with 77 Authorized Agencies operating in 17 US states. AE employs two NABCEP Certified Installers (Fulgham 031310-74 and Kelso 031310-124) and one NABCEP Certified PV Technical Sales professional (Fulgham 012911-35). AE provides a turnkey, consolidated platform of renewable energy training, support, product-agnostic distribution and evolving mindshare to a nationwide network of Ambassador Energy Authorized Agents, who are contractors and entrepreneurs augmenting their portfolios by offering renewable energy solutions to their clients.
Ambassador Energy offers their Agency program to qualified candidates. New Agency Training is offered approximately once every four to six weeks.
###