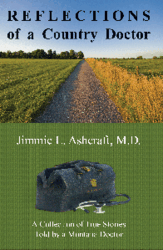 (Ashcraft's) stories, lovingly retold, offer lessons in the patience, concern and dedication found in the country's best rural doctors.
Billings, MT (PRWEB) September 08, 2011
What James Herriot did for veterinary medicine with his true-life stories of a country vet, Jimmie Ashcraft has done for rural primary care, taking readers into the trenches of rural family medicine. The author has collected stories from his 26 years of serving as a family physician in the rural West. The tales not only reflect Ashcraft's experiences but mirror those of generalist colleagues practicing in rural areas across the country who also work under tough conditions, often with a minimum of equipment and personnel.
Reflections of a Country Doctor puts readers in touch with mothers giving birth to patients who need end-of-life care and everything in between. Ashcraft knew from the age of 12 that he wanted to be a doctor. He joined the National Health Service Corps after medical school and worked in Wyoming and then Sidney, Montana, where he planned to stay just one year. He practiced medicine there for 25 years. Ashcraft's version of medicine sometimes is unorthodox as he strives to overcome ineffective staff, equipment theft and small-town attitudes, but the effort generally pays off for patients and their families. His stories, lovingly retold, offer lessons in the patience, concern and dedication found in the country's best rural doctors.
Dr. Jimmie Ashcraft was a member of the clinical staff of the University of Washington Medical School for 30 years. He graduated from the University of Oregon Medical School. He and his wife, Kay, have three grown children and six grandchildren.
For for more information, visit http://www.AshcraftBooks.com
REFLECTIONS OF A COUNTRY DOCTOR: A COLLECTION OF TRUE STORIES TOLD BY A MONTANA DOCTOR
Jimmie Ashcraft
Dog Ear Publishing
ISBN: 978-160844-199-0 304 pages $20.00 US
Available at Ingram, Amazon.com, Barnes & Noble
and fine bookstores everywhere
About Dog Ear Publishing, LLC
Dog Ear Publishing offers completely customized self-publishing services for independent authors. We provide cost-effective, fast, and highly profitable services to publish and distribute independently published books. Our book publishing and distribution services reach worldwide. Dog Ear authors retain all rights and complete creative control throughout the entire self-publishing process. Self-publishing services are available globally at http://www.dogearpublishing.net and from our offices in Indianapolis.
Dog Ear Publishing – self-publishing that actually makes sense.
###