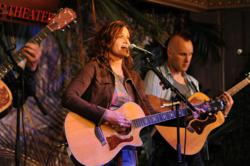 A unique,
rarely seen form of family entertainment.
Hollywood, CA (PRWEB) September 01, 2011
Los Angeles Music Awards Singer/Songwriter of the Year recipient DeeDee O'Malley, along with her band, Size 7 Hat, will perform at the L. Ron Hubbard Golden Age Theater this Saturday, September 3, located on Hollywood Blvd, one block west of the Grauman's Chinese Theatre, at Sycamore.
Ms. O'Malley began supporting herself in New York by singing jingles for clients like Avis Rent-a-Car, Heinz Ketchup and IBM. Later, she sang background vocals for Patti LaBelle, Kenny Rogers, Willie Nelson, Jermaine Jackson and The Pointer Sisters and, after moving to Los Angeles, opened for Country legend, Glenn Campbell. And her songs can be heard on soundtracks for Dawson's Creek, Party of Five, Joan of Arcadia, Beautiful People and Strong Medicine.
Ms. O'Malley will open for L. Ron Hubbard's science fiction story, "The Slaver," about a rebellious warrior from a race that once ruled an interplanetary empire, who is captured and enslaved to labor in the factories and fields of a distant world. Facing a grim fate, he must use all his cunning to save not only his own, but the life of a slave girl, who has befriended him, from their ruthless captors. The evening's production featured actors include: R.F. Daley (Bridesmaids), Emmy Award winning actor John Mariano (The Young and the Restless, Animaniacs) and Emelie O'Hara (Stained Glass Windows).
Deedee O'Malley recently performed her song "High Like I Am" with her band, "Size 7 Hat" at the Golden Age Theater. (click to watch)
The L. Ron Hubbard Golden Age Theater is located at 7051 Hollywood Blvd, one block west of the Grauman's Chinese Theater. Doors open at 7:00 PM. Tickets are $10.00 and can be purchased online at http://www.goldenagetheater.com. Free parking and complimentary refreshments following the show.
A recent free addition to the evening is photos after the show with actors which can be downloaded from http://www.goldenagetheater.com.
The Golden Age Theater was reviewed by LA Weekly which called it "a unique, rarely seen form of family entertainment." While CBS Radio gave it four-stars, its highest rating for "Southern California's most refreshingly unique entertainment experience." The Saturday night performances recreate "the sensations of old-time radio, compellingly crafted tales by award-winning writer L. Ron Hubbard."
Stories from the Golden Age contains 153 stories all written by Hubbard during the 1930s and 1940s—in genres ranging from Mystery to Thriller, Science Fiction and Fantasy to Adventure and Western, using his own and fifteen pen names—widely considered America's Golden Age of Fiction. The print version of each work includes the pulp fiction artwork that originally accompanied the story in magazine publication. In addition, each title offers a full-cast, unabridged audio theatrical presentation complete with theme music and sound effects. For more information on the books and audiobooks go to http://www.goldenagestories.com.
###