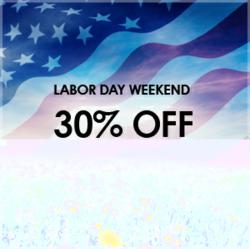 Labor Day is an appropriate time to offer this unprecedented savings event in honor of all our hard-working customers who may be feeling the need to tighten their belts during these tough economic times
Cottonwood, AZ (PRWEB) September 02, 2011
Nutri-Health® Supplements LLC, formulator of the renowned Flora Source® Multi-Probiotic®, today launches the largest sale in its history throughout the 3-day Labor Day weekend. Every regular priced product in its line of premium all-natural health supplements will be available at 30 percent off, with free standard shipping, when customers order before midnight Monday, Sept. 5.
"Labor Day is an appropriate time to offer this unprecedented savings event in honor of all our hard-working customers who may be feeling the need to tighten their belts during these tough economic times," says Nutri-Health Vice President Tom Callahan.
"The road to economic recovery has certainly been bumpy, and we're all feeling it in one way or another. When it comes to our customers' health, if we can offer some needed relief, we're ready to pitch in. This three-day sale will give everyone a welcome opportunity to stock up on their favorite supplements and realize some significant savings."
Nutri-Health formulates and distributes premium supplements made from all-natural ingredients. Its flagship product,Flora Source® Multi-Probiotic®, has been a customer favorite since 1987. In recent years the company has introduced a number of popular supplements promoting healthy aging and targeting particular health concerns, including:*

To view the complete Nutri-Health Supplements product line, visit the company's website at http://www.nutri-health.com. Products can be ordered via the website or by phone toll-free at 800-914-6311.
About Nutri-Health Supplements
Nutri-Health Supplements, LLC, a subsidiary of Atrium Innovations Inc. (TSX: ATB), is a leading developer and marketer of probiotic, enzymes and other specialty supplements products. Its premium line of nutraceuticals consists of proprietary Multi-Probiotic® blends, supplement and enzyme formulations designed to address the specific health needs of consumers, predominantly digestive and immune health. The company primarily offers its products directly to health-conscious consumers across the United States. Its products are manufactured at a state-of-the-art, National Science Foundation Good Manufacturing Practices (NSF GMP) registered facility and tested in an ISO 9001:2008 certified and ISO 17025 accredited laboratory.
*These statements have not been evaluated by the Food and Drug Administration. This product is not intended to diagnose, treat, cure or prevent any disease.
###