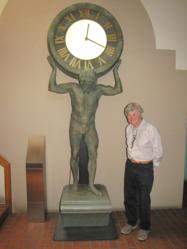 "I know my company will be in good hands." - Larry Snyder, founder of Canterbury International
Culver City, CA (PRWEB) September 01, 2011
On the eve of its 50th anniversary, the oldest architectural site furnishings firm in the nation merged with a company three times that age. The Verdin Company — based in Cincinnati, Ohio, and recognized as the preeminent manufacturer and installer of clocks, cast bells, and carillons — bought Canterbury International from founder Larry Snyder last summer.
Now both are celebrating two monumental anniversaries — together. Established in 1842 and led by the fifth generation of Verdins, The Verdin Company will celebrate its 170th anniversary in 2012, the same year Canterbury turns 50.
The merger brought two of the country's most venerated and recognized companies together, where they continue to design and produce the familiar benches, bollards, drinking fountains and monumental clocks that grace cities, amusement parks and churches around the world.
First hired to make clocks for Fifth Avenue's Tiffany & Company, Snyder founded Canterbury in Los Angeles in 1962. What began as a company that made mostly clocks, Canterbury quickly expanded to include original designs in a full range of site furnishings. And though he is still an active designer and decision-maker, he felt the need to pass his company on to a younger generation. Verdin has been making clocks for Canterbury for close to 40 years, so for Snyder, the choice was a natural.
"Jim [Verdin, company president] and I have been friends for years," Snyder said. "I respect his vision and focus on quality. I know my company will be in good hands."
With a client list that includes the city of St. Augustine, Fla., the state of New York, The Walt Disney Company, and the Catholic Church (to name only a few), Canterbury International prides itself on producing custom pieces it calls "art forms for public spaces," known for their quality, durability and artistry.
Though it's one of the nation's oldest family-owned manufacturers, Verdin is known for innovation — from the invention of the first electric bell ringer in 1927 to its appearance on the TV show "Extreme Makeover: Home Edition: After the Storm" in 2006.
"Canterbury is a great fit for us," Verdin said. "We are already adding their product line and custom design abilities to what we offer. And we're especially glad to be celebrating our birthdays together next year."
###