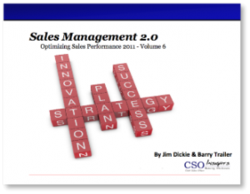 Incline Village, NV (PRWEB) September 01, 2011
CSO Insights is like the Gallup Polls of Selling. They do some of the most exhaustive and respected research in sales effectiveness. Their yearly "Sales Performance Optimization" survey of over 2,000 companies is often cited as the industry benchmark by many respected sources. Recently they featured Corporate Visions in an e-Book covering several key sales performance optimization topics.
Sales Management 2.0: Optimizing Sales Performance 2011 – Volume 6 includes a section on sales messaging and interview with Tim Riesterer, CMO of Corporate Visions and co-author of "Conversations that Win the Complex Sale." It's great recognition that the customer conversation, and the message development and delivery process that goes into it, is considered a strategic component of sales optimization, Riesterer says. "It's a privilege to be included as an industry thought leader."
Click on this link to get your free copy of this insightful eBook.
About Corporate Visions (http://www.corporatevisions.com)
Customer conversations are your best opportunity for competitive differentiation. You need to be different, where it counts. With Corporate Visions you will: develop messages that matter because they focus on your customer and set you apart from your competition; deploy tools that get used by the field because they are aligned to every step in the buying cycle, and empower you to accelerate deals through the pipeline; deliver training for winning conversations that teaches you the science and art of how to tell your story with impact and differentiation at every customer interaction, making it easy for prospects to choose you. Corporate Visions' world-class customer's who are willing to speak at their conferences and provide public testimonials for their concepts include: ADP, Oracle, GE, Dell, Wells Fargo, Kodak, AmerisourceBergen, Kronos and more.
###