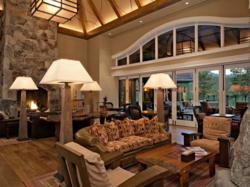 (PRWEB) September 08, 2011
On July 1st, 2011, the Vallone Design team unveiled the much anticipated Camp Lodge at Martis Camp in Truckee, California. The three day long Grand Opening celebration marked the completion of an approximately six year labor of love for designers Kim Anderson and Donna Vallone, of Vallone Design. Under the direction and leadership of Donna Vallone, this team of accomplished designers and support staff work primarily on high-end residential and hospitality projects throughout Arizona and the United States. In addition to Martis Camp, Vallone Design has completed many notable projects for luxury residential community developers, including DMB, Highlands Group, Pivotal Group, and The Lyle Anderson Companies. Clubhouses have been designed and installed in the communities of Silverleaf, Glenwild, Lahontan, Las Campanas, and Superstition Mountain, to name a few.
As the fourth amenity and main anchor of the highly successful private golf and ski community, the $40+ million Martis Camp clubhouse features fine dining, bar/grill, state-of-the-art fitness center, a 15,000+ square foot spa, luxurious men's and women's locker rooms, golf shop, and a massive living room reminiscent of the great National Parks Lodges of North America. The design of the clubhouse was intended to be timeless and classic, inspired by the historic lodges of yesteryear, while still providing a sophisticated energy and lifestyle for the membership. Truly a four season community, Martis Camp offers direct ski access in winter months to Northstar-at-Tahoe resort, serviced by their very own high speed quad chairlift, the Martis Camp Express. In summer months, residents can enjoy a full 18 holes of golf on the signature Tom Fazio course amid the majestic pines and fresh mountain air.
When asked some of her favorite features of the Lodge, Kim Anderson responded, "You really must see it to fully appreciate the commitment to detail this building received from the entire design team, but of course the upholstered ceilings are magnificent – inspired by antique Victorian crazy quilts – and are among my favorite features. I upholstered all of the smaller spaces, such as phone rooms and dressing rooms, with different plaid ceilings, and while others may not notice, it's one detail that I just love about the building." The murals painted on the spa staircase walls and the tromp l'oil design painted on the Private Dining staircase are also two of Anderson's favorite features of the Camp Lodge. She adds, "Beginning with the architecture, and the surroundings, to of course the furnishings themselves, this building will endure and be a cherished part of life shared through generations by the members of Martis Camp."
Club members have a multitude of options when it comes to dining at the Camp Lodge. The Lodge itself offers five distinct dining rooms, including a lively bar/grill and an elegant Private Dining Room with its own lookout terrace, perfect for enjoying the early evening "alpenglow" as it spreads across the famed Sierra Nevada range. Exterior terraces abound, meandering gracefully along the rocky cliff on which the Lodge perches. Each locker room also boasts a luxurious lounge area where meals, card games and friendly wagers may be enjoyed. Anderson designed the spaces so that groups of all ages and sizes could be easily accommodated, which is ideal since Martis Camp is a place members are excited to share with family and friends.
In addition to the spectacular clubhouse, the Martis Camp Family Barn was completed by Anderson and her team in the summer of 2009. The Family Barn is a one-of-a-kind recreation complex complete with a bowling alley, full size indoor basketball court, outdoor concert park, Olympic sized swimming pool, 50 seat movie theater, and spectacular art loft (which host a year round Folk School for serious and recreational artists alike). The playful mix of materials, colors, textures and whimsy bring a casual, family-friendly atmosphere not seen in many private golf communities. Anderson notes "the Family Barn is a unique concept, especially for a private club of this size, and we have received rave reviews of the design. I see it as a new, exciting direction in the golf community standard." Vallone Design also completed the Lost Library within Martis Camp (2008); a building which serves as a quiet retreat where members can enjoy a book and cozy up by the large stone fireplace. Earlier this year, the Play Park Pavilion was added to the ever growing list of amenities designed by Anderson. The Play Park is an ideal place for families to gather, complete with fire pits, barbecues, soft seating groups and a variety of sporting options, including bocce ball, croquet, volleyball, and a grass sports field.
With approximately 653 home sites, including a mix of both larger custom home estates and smaller cabins, this residential market has continued to defy the housing down turn. Vallone Design is currently completing several custom homes and cabins for Martis Camp members. Donna Vallone noted "we have enjoyed working with the members of Martis Camp on their personal homes, bringing a new design aesthetic to the concept of mountain living. My design staff and I look forward to watching this prestigious golf community continue to grow and thrive."
About Vallone Design:
Founded in 2001 by renowned Interior Designer Donna Vallone, who has more than 30 years of experience, Vallone Design is a leading, full-service interior design firm based in Scottsdale, specializing in classic and exquisite residential and commercial luxury projects across the nation. Through inspired and attentive use of color, texture, lighting and spatial relationships, Vallone Design's residential portfolio spans from traditional and fresh designs to whimsical and modern spaces – all while flawlessly creating timeless and customized looks that match each client's personality. Vallone Design's rounded commercial portfolio includes well-known projects throughout the nation, including Silverleaf Country Club, the spa at Royal Palms Resort & Spa, and Paradise Valley Country Club. Clients are privy to the firm's one-of-a-kind showroom, which houses some of the world's most original antiques and furnishings scouted from around the globe. With a team of award-winning interior designers devoted to the perfection of their craft, Vallone's designs draw inspiration from its surroundings, big and small, to create a timeless ambiance within each space. For more information about Vallone Design please visit them on the web at http://www.vallonedesign.com or follow them on facebook http://www.facebook.com/vallonedesign. For more information on Martis Camp please visit http://www.martiscamp.com.
###