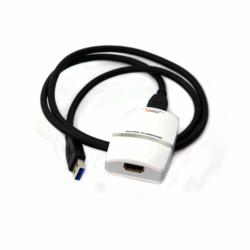 ...we know that customers will love our USB 3.0 adapter even more when they see the enhanced video quality.
Toronto, ON (PRWEB) September 05, 2011
Phree Tech today announced the release of the first commercially available SuperSpeed USB 3.0 to HDMI® multi monitor video adapter (part number: GOBCV1U) in North America. The GOBCV1U takes full advantages of the high-speed transfer rate provided by USB 3.0 connection which can be found on most of the newly released computers/motherboards.
The GOBCV1U is a cost effect and hassle-free solution for adding another video and audio source to your computer. Either your video output port on your PC is already taken or you just need one more (a few more) video source(s) to connect to your TV, projector or monitor, simply plug the GOBCV1U in to the USB port, you will be able to extend your screen onto another display (up to 2048x1152 pixels High Definition resolution). The adapter provides an HDMI® port with integrated stereo audio signal; the included HDMI® to DVI adapter allows the adapter to be used with a DVI equipped display.
"At Phree Tech, we strive to bring the latest technology to our customers," said Harold Kendrick, Executive Director at Phree Tech. "The USB 2.0 video adapter has been a great success because of its flexibility and ease of use, and we know that customers will love our USB 3.0 adapter even more when they see the enhanced video quality."
The GOBCV1U is also backwards compatible with USB 2.0 connection, meaning the adapter will still function if plugged into a USB 2.0 port.
Availability and Pricing
Currently available on Amazon.com and Amazon.ca.
MSRP: USD $109.99 in the United States and CAD $109.99 in Canada. The GOBCV1U will be available from other online retailers shortly.
For more information please contact Phree Tech at phreetech(at)phreetech(dot)com
About Phree Tech (http://www.phreetech.com)
Phree Tech is a leading IT solution provider that is focused on customer satisfaction by providing outstanding customer service and technical support to our customers. Phree Tech is committed to bringing the latest technology to our customers and enabling their IT solutions.
###