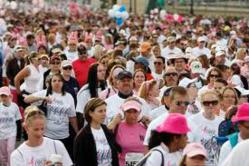 Brainerd/Baxter, Minnesota (PRWEB) September 02, 2011
Each year since 2000, the Race for the Cure has been the primary fundraiser for the Brainerd – Baxter chapter of the organization. Held at Baxter's Forestview Middle School in July, participants could choose to run in the 5K, walk a 5K or walk a 1 mile course. Those not able to be there in person, or not able to participate physically could enter as Spirit Runners and still support the event.
"Our Visit Brainerd Lodging Association members are proud to have taken part in this event. Kristine Hoheisel walked the Brainerd race for the cure with two of her fellow employees Kari Hummel and Danielle Juenemann. I'm walking in honor of one of my best friend's Julie Splettstoesser who is 34 and the mother of two little boys ages 2 and 4 and just battled Breast cancer. I rose over $400 for Race for the cure. After the race I found out another friend also 34 years old with 3 kids the littlest only being 7 months old; has breast cancer so I will be walking again next year and will keep walking until they have a cure. My fellow employees are going to keep walking with me" said Hoheisel.
Suzette Bush, Executive Director of the Visit Brainerd Association provided assistance to some of the hundreds of participants as they sought Brainerd Hotels in the Lakes area. Many visitors from outside the area arrived to be part of the annual event and many combined their participation with a little family vacation as well.
Suzette noted that the timing for the event, in conjunction with the Community Action 4th of July events, left visitors with the dilemma of selecting which of the many options for entertainment, watersports, parades, festivals, fireworks, art shows and celebrations that were available to choose from. The Visit Brainerd Lodging Association provides visitors with information regarding the lakes area and offers assistance with the selection of Brainerd MN hotels.
The "Race for the Cure" has been ever growing here since it's inception in 2000. "We are pleased to see the growth and delighted to be able to participate in the fund raiser itself as well as helping the out-of-town participants with reservations at any of the eleven properties represented by the Visit Brainerd Lodging Association."
In addition to the individuals who raced and raised funds for the foundation, teams were formed in the categories of Commercial, Community Group, and Family/Friends. Breast cancer survivors were recognized with special pink t-shirts and caps (gray for men!) A group photo of all survivors was taken and later mailed out to each participant. Many local organizations and businesses donated prizes and treats for everyone involved.
Up to 75% of the net profits are granted to entities within Minnesota for breast cancer programs. At least 25% goes directly to the Susan G. Komen for the Cure® Award and Research Grants Program.
###