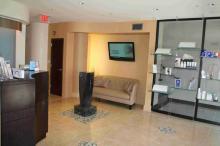 Ethos Spa, Skin and Laser Center, is the premiere laser center in NJ addressing all your cosmetic and anti-aging needs.
Summit, New Jersey (PRWEB) September 02, 2011
Ethos Spa, Skin and Laser Center, located in Summit, NJ is adding a second location in Englewood, NJ. Highly qualified physicians perform non-invasive and minimally invasive cosmetic and anti-aging procedures in a tranquil, luxurious environment. Procedures include laser hair removal, Botox, Juvederm, chemical peels, acne treatments, superficial vein removal, rosacea treatment, and skin resurfacing using Fraxel. Laser hair removal is one of our most popular procedure.
Laser hair removal is one of the most commonly performed cosmetic procedure. Lasers are a very efficient way of removal unwanted hair from virtually any part of the body. There are many providers of laser hair removal in New Jersey, but it is important to have all the information before deciding on a laser hair provider.
Lasers utilize light to destroy the hair follicle. Dark, thick hair responds bests to hair removal. Laser hair removal is not very effective for light colored hair such as white, gray, blonde, or even red. Lasers employ the principles of selective photothermolysis where the pigment in the hair absorbs the light converting it to heat and destroying the hair. Typically 4 to 6 treatments are required before you experience significant reduction from laser hair removal. Some clients may require more treatments to experience significant reduction in hair. The procedure can be employed anywhere there is hair growth and is suitable for both men and women. Areas typically treated include face, neck, underarms, arms, legs, back, chest, bikini, and Brazilian.
Before having your laser hair removal procedure performed in New Jersey NJ, you need to have some basic information about your laser provider. Lasers are very powerful devices and while advances in technology have made them increasingly safer, the procedure is best performed by trained medical professionals such as doctors who understand laser tissue interactions, skin type, and are comfortable in treating complications. It is best to go to a location in NJ for laser hair removal that has multiple different lasers because not all lasers are safe and effective on the different skin types. For example, ethnic or dark skin type including Mediterranean, South American, Asian, and African skin should be treated by the YAG laser.
Preparation for the laser hair removal procedure NJ include sun avoidance before and after the procedure. While lasers can be employed on any skin type including tanned skin, it is best to avoid the tanning at least 1 to 2 weeks before the procedure to mitigate any unwanted complications. It is also important not to wax, pluck, or tweeze the hair 3 to 4 weeks before the procedure or in between treatments. Shaving, bleaching, and using depilatory creams are acceptable alternative to stay groomed. After your laser hair removal provider has had a chance to see the density and quality of hair, you also need to shave or utilize another of the aforementioned alternative prior to the treatment as laser hair removal works on the hair bulb and hair need not stick above the skin for effective results.
Laser hair removal NJ is performed in a series of treatments. Most people will require 4 to 6 treatments to see effective results. Some people will require more treatments. The duration between the treatments is primarily dependent on the areas being treated. Laser hair removal is performed once a month for areas such as the face and neck while it may be performed once every 6 to 8 weeks for other areas such as the arms and legs. The reason for multiple treatments is that hair grows in stages and is most susceptible to being removed while in the active growth phase. Only a percentage of the hair in a given area is in this stage and with each treatment, you can expect a 15% to 20% reduction in hair. Most people can experience long term results after the laser hair removal procedure but at some point hair regrowth can recur. Hormonal changes, medical conditions, and certain medication can increase your likelihood for regrowth or result in less hair reduction. It is important to discuss the laser hair removal procedure with your provider so you have realistic expectations.
When hair regrowth does occur, it tends to be finer and lighter than the original hair and further reduction with lasers may not be possible. It is important to be aware that laser hair removal should not be performed in pregnancy or while breastfeeding. It is also not recommended in children under the age of 14 or for someone taking Accutane. Patients with certain light sensitive conditions such as lupus or those with significant and poorly conditions medical conditions such as diabetes should also be careful about getting laser hair removal.
While laser hair removal is a safe and effective procedure in NJ, there are risks. These include pigment changes such as hypopigmentation(lightening of skin), hyperpigmentation (darkening of the skin), superficials burns, and rarely permanent scarring. While complications rarely results in permanent side effects, it is important to go to a laser hair provider who has worked with different lasers, understands the difference in skin types, and know how to treat complications should they occur. Ask your laser hair provider for the number of procedures performed, experiences with ethnic skin, and the number of complications.
Most providers of laser hair removal will offer either numbing medications or cooling devices to make the procedure as comfortable as possible. Cooling is often incorporated into the laser and can take the form of a cool spray or a cold tip to help protect the skin from excessive heat. In New Jersey, some laser hair providers will also offer external cooling in the form of a device that blows very cold area across the area treated to protect the skin. While none of these devices will completely remove any discomfort, the hair removal procedure is typically fast for smaller areas and the aforementioned techniques will mitigate the discomfort. Many people have likened the laser hair removal procedure to the snap of a rubber band but everyone has different tolerant levels for pain or discomfort.
You may experience temporary redness and swelling that can last from a few hours to several days. It is very important to avoid significant sun exposure after the procedure to reduce any complications such as pigment changes. Once the redness and swelling has subsided, the risk is diminished. As a general rule of thumb, make sure you wear sunscreen before and after the procedure. If there is significant redness and swelling notify your laser hair removal provider and you may need to use topical steroids for a few days to reduce the redness and swelling. If there is any crusting, blister formation, significant pain or wound formation, notify your laser hair provider immediately.
Laser hair removal in NJ New Jersey is a very safe and effective procedure when performed by a trained professional. Look for a physician or a mid level practitioner working directly under physician supervision. Ask lots of questions and above all relax. Your life is about to get a whole lot easier without having to worry about shaving every day. Remember laser hair removal is not permanent and you may experience some regrowth.
Visit Ethos Spa, Skin and Laser Center and schedule your complimentary consultation with one of our physicians today. Call 908-273-5400 or click here to contact us. We have locations in Summit, NJ and will be adding a second location in Englewood, NJ. Come experience the Ethos difference.
###