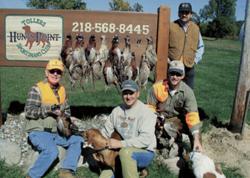 Suzette Bush said "Visit Brainerd Lodging Association is offering a special 10% discount on accommodations for clients of Hunts Point Sportsman's Club"
Brainerd/Baxter, Minnesota (PRWEB) September 02, 2011
January 23, 2011 was a dark day for the Hunts Point facility. In 16 degree temperatures, with winds gusting up to 30 mph, three fire departments responded to the fire that engulfed the clubhouse. The building was a total loss. Owners, Peggy and Jim Wills, began construction of their new facility in May of this year. The new clubhouse will encompass 2,400 sq. ft. with a lounge area, pro shop and offices. In addition, there will be a 7,700 sq. ft. dog training center.
Hunts Point Sportsman's Club offers pheasant and/or chukar hunting on site, as well as ten stations for shooting sporting clays and a five stand course. Seminars, facilities for dog training and field events are among the many offerings.
"Our Brainerd Hotels are happy to offer this special discount to the clients of Hunts Point. We are excited to see the rebirth of the facility and to be able to offer visitors to our area one more option to participate in sports and the outdoors that Minnesota is famous for."
Suzette Bush, Executive Director of Visit Brainerd, is always available to assist visitors with vacation plans for the Brainerd lakes area. Representing eleven unique Brainerd MN hotels, she is familiar with every aspect of vacations to Minnesota's premier lake country.
Suzette offers advice and suggestions for all types of visitors to the area. "We may be famous for our lakes," she commented, "but lakes are not the only thing we have to offer visitors. With activities scheduled year-round, we are able to direct vacationers to the activities most appropriate for the individuals and groups who come here."
Sportsmen have an abundance of choices, from summer fishing excursions, winter ice fishing and fall hunting trips to the thousands of acres of public lands, plus such fine facilities as Hunts Point where guests can tune up their bird hunting skills and their dogs.
"We accommodate families, conferences, tournaments, tours and individuals seeking a change of scenery and exciting new experiences." The Brainerd – Baxter communities excel at hospitality and having a fine facility like the Hunts Point Club to offer along with the many other opportunities to participate in outdoor activities is of great value.
Offering this special discount to Hunts Point visitors is just one example of how the members of the Visit Brainerd Lodging Association lend a hand to support others in the community. Make your reservations through "VisitBrainerd.com" or contact one of our Lodging properties and mention that you will be visiting Hunts Point to receive this special 10% discount offer.
###