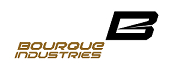 Our Terminator Fat Boy armor has met and exceeded NIJ specifications over and over again in public, documented demonstrations... We're looking forward to proving the quality of our armor in NIJ live-fire testing
Tucson, Ariz. (PRWEB) September 01, 2011
Bourque Industries, Inc. (OTC:BORK) today announced that the National Institute of Justice (NIJ) has accepted the Company's application and technical data sheets and has issued a testing number for Bourque's Terminator Fat Boy Level III standalone armor, paving the way for anticipated NIJ certification at a future date. The NIJ testing number is BII11-001871.
The next step is standardized ballistic testing at Oregon Ballistics Laboratories, where the plate will be subjected to weathering and live-fire testing. The Fat Boy plates will be required to defeat six 7.62x51 FMJ 147 grain rounds within a specified back-face deformation requirement. Bourque will be conducting a similar test at a live demonstration September 1 at Fort Bragg for invited military guests.
"This is an exceedingly important milestone for Bourque Industries," said John M. Bourque, inventor of Kryron and CEO of Bourque. "Our Terminator Fat Boy armor has met and exceeded NIJ specifications over and over again in public, documented demonstrations. Now that our technical specifications have been accepted, we're looking forward to proving the quality of our armor in NIJ live-fire testing."
About Bourque and Kryron
Bourque Industries, Inc. is a publicly-traded company (OTC: BORK) based in Tucson, Ariz. Bourque is the exclusive distributor of all Kryron-based technologies.
Kryron is a patented, state-of-the-art aluminum alloy and the optimal material for ballistic armor plates. Compared to industry-standard personal protection ceramic plates, Kryron Terminator armor is lighter, far more durable, and eliminates shatter, spall, and ricochet.
Bourque Industries, Kryron, and Terminator armor are trademarks of Bourque Industries.
This communication to shareholders and the public contains certain forward-looking statements. Sometimes these statements will contain words such as "believes," "expects," "intends," "should," "will," "plans," and other similar words. The events described in these forward looking statements are not certain to occur. These statements are only predictions and involve known and unknown risks, uncertainties and many factors beyond our control.  Although forward-looking statements, and any assumptions upon which they are based, are made in good faith and reflect our current judgment, actual results could differ materially from those anticipated in such statements.
###