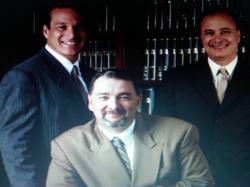 Los Angeles, CA (PRWEB) September 05, 2011
In Chapter 7 bankruptcy, the U.S. Trustee has the power to cancel many (or all) of your debts.
At the same time it also has the power to sell (liquidate) some of the debtor's property to pay the debtor's creditors. Chapter 7 bankruptcy, also called "straight" or "liquidation" bankruptcy, is so named because the law is contained in Chapter 7 of the federal Bankruptcy Code. Call Jeffrey B. Smith today to get all the information regarding Chapter 7 bankruptcy -- who can file, the forms one willl need, how the process works, and what happens to the property and debt.
Generally, a Chapter 7 Bankruptcy Costs can cost up to $2,000.00 in attorneys' fees and costs; however, Jeffrey B. Smith can reduce these costs and fees. Call today for a low fee quote.
The whole Chapter 7 bankruptcy process can take up to four to six months, and commonly requires only one trip to the courthouse.
The debtor will be required to complete a credit counseling seminar with an agency approved by the United States Trustee.
Once the debtor files a Chapter 7 bankruptcy and receives a discharge of debts, that debtor will not be able to re-file for a new discharge for another six to eight years (depending which type of bankruptcy you filed) or if, based on one's income, expenses, and debt burden, the debtor could feasibly complete a Chapter 13 repayment plan.
For more information on these eligibility requirements, call Jeffrey B. Smith a certified Bankruptcy Specialist. In California, out of over 100,000 attorneys in the state of California, only 105 are Certified Bankruptcy Specialists.
CURD, GALINDO & SMITH, LLP keep up on all our cases and follow us on Facebook.
CURD, GALINDO & SMITH, LLP is a full service law firm that includes practice areas of bankruptcy, criminal law, estate planning, civil business litigation, personal injury, product liability and police misconduct. The firm represents both corporate and individual clients of all sizes and those who have been seriously injured or have lost a family member due to an accident, defective product, police misconduct or negligence. The law firm has recovered millions of dollars for its thousands of clients since 1995 by winning complex and challenging business disputes, death and injury cases involving police misconduct, traffic collisions, work place injuries and defective products, including defective automobiles, against some of the world's largest companies and governmental agencies.
###