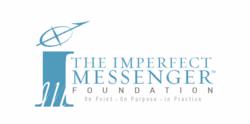 "The American Public is awakening to a decidedly different point of view."
Santa Rosa, Ca (PRWEB) September 01, 2011
The Imperfect Messenger Foundation's Founder characterizes the current political environs in this way, "If we observe the current policy trends as reported in the media, any day now we should expect to hear from Rep. Pelosi (D-Ca.) endorsing the Presidents Jobs Program by way of the following politically in-tune non-sequitur: It's the perfect plan and it addresses key issues that are both sustainable while preserving programs Americans have come to expect and while insuring that we Win-the-Future. I can't go in to details just now but I assure that you will share our enthusiasm for the President's Plan once we vote for it; then we will be able to figure out what it is!" The President is trapped in the community organizers ideological vice, one he seems unwilling to abandon. Three of most favored Alinsky tools are: "Never go outside the expertise of your people." "Ridicule is man's most potent weapon." And "Pick the target, freeze it, personalize it, and polarize it."
On Wednesday of this week, the President took to the e-waives with a polarizing email stating, "It's been a long time since Congress was focused on what the American People need them to be focused on." If the political backwash were not sufficient, the President and GOP Leadership took to sparing over the issue of scheduling conflicts between the Presidents planned to announce his Jobs Program before a joint session of Congress and the previously planned televised Debates between the GOP Presidential Candidate. Reince Priebus, chairman of the Republican National Committee said it was "further proof this White House is all politics all the time".
Greco, in his most recent article, New World Dis-Orders Job Creation, takes a rather whimsical view of the whole mess: "From well outside the box of New World Dis-Order Paradigm Assembly Building (PAB) structure there sits a very lonely man. Barrack H. Obama, President-One-Term-Possible of these United States and he has a rather severe problem; the simple axioms of disorder long the custom of community organizers-in-jest just doesn't seem to work in the juggernaut of political America-run-a-muck and his cursed do-nothing-congress metaphor just doesn't seem to have the bite his handlers expected or for that matter neither does the GOP."
Earlier this week while appearing On Air with Mike Miller of WIMA, Ohio, Economic Policy Analyst, Curtis Greco stated, "Washington is aplenty with self-anointed deities each in their own way testing the boundaries of the pyrrhic-syndrome where nothing but the seemingly unreasonable, unconscionable and irrational are worthy of approach. Let's all stop lying to one another and realize that the President Obama's Job Strategy, if we consider the Grand Success of the much heralded no so Grand Bargain , is actually quite limited but then again it seems to have been the plan all along; a Grand Illusion. After all haven't we finally come to understand that in America's new evolved brand of democracy that the freedom to choose must never include the freedom of choice!"
Later in the day while On Air with Tim Aalders of Buy Back America Radio, the theme continued with Curtis offering, "Tragically, far too many actually believe the entire Illusion is real….And let me over an excerpt from a recent Op-Ed piece I wrote; 'On to the galleries of Illusions where masses rally, comfort and defy. Aloof and feckless, strings in tune, self-musing whilst the bromide ferries discord and sweetly whispers, it's yours the price is free. Rehearsed and well-repeated keeps the rhyme alive so long as ye remain convinced Illusions never Lie."
###