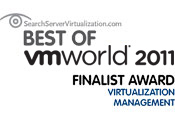 We believe that receiving this award – now two consecutive years in a row – attests to the tremendous value that Xangati brings to performance management...
Las Vegas, NV (PRWEB) September 01, 2011
Today, at VMworld 2011 in Las Vegas, Xangati, the recognized leader in infrastructure performance management (IPM), announced that the latest release of its Xangati Management Dashboard (XMD) has won the finalist award in the "Virtualization Management" category of the Best of VMworld 2011 Awards program. The award represents Xangati's second consecutive win in the "Virtualization Management" category at VMworld, the industry's premier virtualization conference.
"We are extremely honored once again to receive this recognition at VMworld," said Alan Robin, CEO of Xangati. "Without an accurate and timely 360-degree view into all silos impacting the infrastructure, organizations simply cannot extend their virtualization initiatives. We believe that receiving this award – now two consecutive years in a row – attests to the tremendous value that Xangati brings to performance management, as well as our ongoing commitment to deliver the best solutions to successfully implement these transformational architectures."
Representing the third major release in less than 12 months, the XMD 4.0 provides 360-degree visibility and context for all dynamic interactions in the infrastructure across all silos – network, storage, servers, desktops, clients and applications. The new release includes actionable context with new features that include: increased storage depth through tracking of the datastore; addition of WMI (Window Management Interface) statistics to give the deepest look possible inside the guest VM; and live and DVR-recorded views into the PCoIP protocol for VDI through a recently announced technology partnership with Teradici.
In addition to its new capabilities, the XMD 4.0 still provides all of Xangati's trademark features, including its live and continuous scroll bar with drill-down navigation; automated DVR recordings and patent-pending Performance Health Engine which provides advanced analytics for both server virtualization (VI) or virtual desktop infrastructure (VDI) implementations.
The XMD was also honored through its selection for its ease of integration, use and manageability, and filling an essential market need. With a theme of "Own It. Your Cloud," participation at VMworld Las Vegas set a new record this year, with an estimated 20,000 people attending the conference.
Hosted by TechTarget and SearchServerVirtualization.com, the Best of VMworld 2011 Awards recognizes the most outstanding products on display at the conference by an independent team of expert judges, consisting of independent analysts, users, consultants, and editors.
About Xangati
Xangati, the recognized leader in Infrastructure Performance Management (IPM), provides unparalleled performance management for the emerging and transformational data center architectures impacting IT today, including server virtualization, cloud computing and VDI. Its award-winning suite of IPM solutions accelerates cloud computing and virtualization initiatives by providing unprecedented visibility and real-time continuous insights into the entire infrastructure. Leveraging its powerful precision analytics, Xangati's health performance index provides a new way to view and manage performance – in real-time – at a scale previously not possible.
Founded in 2006, Xangati, Inc. is a privately held company with corporate headquarters based in Cupertino, California. Xangati has been granted numerous technology patents for its 360-degree comprehensive approach to Infrastructure Performance Management. Xangati is a VMware Technology Alliance Partner and certified Citrix Ready Partner and supports both VMware View and Citrix XenDesktop, as well as other virtualization environments. For more information, visit the company website at http://www.xangati.com. Phone: +1 408-252-0505.
Xangati and the Xangati logo are registered trademarks or trademarks of Xangati, Inc. All other trademarks mentioned in this document are the property of their respective owners.
###