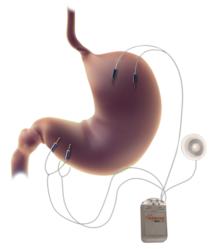 The DIAMOND System is an attractive treatment alternative for managing Type 2 Diabetics who have exhausted oral medications
Hamburg, Germany (PRWEB) September 02, 2011
The favorable Benefit-Risk profile of the DIAMOND (TANTALUS) System , a minimally invasive gastric stimulator for treatment of Type 2 Diabetes and its metabolic comorbidities, developed by MetaCure, was presented at the Annual Meeting of the International Federation for the Surgery of Obesity and Metabolic Disorders (IFSO) in Hamburg at the beginning of September. Prof. Arthur Bohdjalian of the Medical University of Vienna (AKH) demonstrated in his lecture at the IFSO meeting that the DIAMOND System brings significant glycemic and metabolic improvement with mostly mild to moderate adverse events.
Contrary to conventional pharmacological and surgical treatments for diabetes which can induce the buildup of adverse events and irreversible effects on life quality, the DIAMOND System is associated with mainly transient mild to moderate adverse events. A meta-analysis of 80 obese Type 2 Diabetics treated with the DIAMOND System for at least 6 months after failing on oral anti-diabetics demonstrated that the majority of adverse events reported for the DIAMOND System were not related to the device and resolved within 4 weeks of implantation without sequelae. In the same population, the DIAMOND System demonstrated a comprehensive metabolic effect, specifically, mean reduction of 0.9% in HbA1c accompanied by significant weight loss, waist circumference reduction, lowering of blood pressure (systolic and diastolic) and improvement in blood lipid profiles.
"DIAMOND's safety and efficacy are due to the fact that it acts physiologically, enhancing the normal metabolic processes and not causing any metabolic dysfunction" said Prof. Bohdjalian. " Therefore it is an attractive alternative treatment for managing Type 2 Diabetics who have exhausted oral medications."
MetaCure also held an invited luminaries meeting at the IFSO conference presenting the concept of the next generation DIAMOND System currently under development. "Our next generation system based on a novel therapeutic signal is planned to have a much simpler implantation procedure and increased efficacy" said Dr. Irit Yaniv, MetaCure's CEO. "Thus creating new and attractive market opportunities ".
About MetaCure - MetaCure is a medical device company dedicated to developing innovative minimally invasive Interventional Diabetology solutions for Type 2 Diabetes and its metabolic comorbidities. The Company's leading product, The DIAMOND System has been shown to significantly improve glycemic and metabolic control while maintaining a clean safety profile. The DIAMOND System is CE approved since 2007 and is commercially available in selected excellence centers in Europe.
###