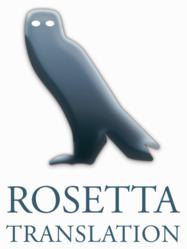 Designed to provide sound language advice to our clients.
London, UK (PRWEB) September 02, 2011
The translation agency has designed and created a carefully crafted newsletter that aims to take language news to its clients by making it relevant to their specific industrial sectors. The newsletter's unique blend of top legal, financial and language stories together with a sprinkling of subtle humour make it a priority monthly read for news enthusiasts.
The first edition of the Rosetta Gazette got off to a flying start, tantalising its readers with ethical dilemmas linked to the Murdoch scandal, the woes of the European markets and how language tenders have an impact on the services that both the public and private sectors receive.
Rosetta Translation's newsletter, the Rosetta Gazette is fast becoming the top read for many legal associates and financial advisers looking to gain new perspectives on mainstream news items, whilst keeping up to date with issues that will affect their business and their clients in turn.
The Rosetta Gazette has been carefully composed and designed by Rosetta Translation's very own marketing team. Staff members have been encouraged to come forward with news stories they feel Rosetta, as a leading translation company, should investigate from the point of view of a language service provider. Rosetta's team is constantly kept up to date with current affairs that could have an impact on the language industry, but this rarely filters through to their clients. The newsletter provides staff with the rare opportunity to reach out and make the language industry more relevant to their client bases, which they feel, in time, will assist mutual understanding and strengthen business relationships.
"We often find that our clients are not so familiar with language industry news, even when it will undoubtedly have an impact on their business. The Rosetta Gazette is designed to provide sound language advice to our clients and keep them up to date with not only language industry news, but also wider national and international news that is related to language services," explains Business Development and Marketing Manager, Manchandan Kaur Sumray, who is heading the newsletter campaign.
The Rosetta Gazette's first issue went live into circulation at the beginning of August and received very positive feedback from its readers. The Rosetta marketing team are now working on the September issue which is set to be yet another delicious read. The following issue will explore the cultural impacts of the UK riots and Chinese relations with the international community, whilst keeping language industry implications at the forefront.
The newsletter also includes some welcome relief to the hard-at-work city employee in the form of amusing 'how to' and 'how not to' guides that provide helpful hints on 'how not to get a job' or 'how to nicely annoy your project manager' for instance. Rosetta's main message however, is neatly driven home by the short language-related joke rounding off the newsletter, which highlights the necessity for business professionals to invest in professional translation services.
About Rosetta Translation:
Rosetta Translation primarily provides language services for most world languages. Headquartered in London, the company provides translation, interpreting and transcription services to clients worldwide. http://www.rosettatranslation.com
# # #