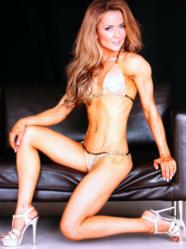 We were really impressed with Alex - the fact that we awarded her our Pro Card is recognition of that.
(PRWEB UK) 1 September 2011
Alex, a personal trainer, fitness and nutrition expert, Gaspari sponsored bikini athlete and entrepreneur, has gained her Pro Card after competing in just two competitions: Fitness America in Miami (2009), and the WBFF Toronto (2010). She will now compete against other pro card holders in future competitions.
Paul Dillett, President and CEO of the WBFF http://www.wbffshows.com said: "We were really impressed with Alex - the fact that we awarded her our Pro Card is recognition of that. What stood out for me and for Allison – our Executive Vice President – is that she has the full package: physique, personality, professionalism and an entrepreneurial spirit - a true fitness professional. She'll be a great role model for the WBFF and the industry at large."
A WBFF Pro Card confirms an athlete's professional status in the world of fitness and bodybuilding. It is awarded to those who make the top three in their competition category, and who represent the overall package of beauty, athleticism, physical fitness, and marketability. There are just 90 WBFF pro card holders in the world across all male and female categories.
Alex said: "As a federation, the WBFF sets a high standard and attracts the strongest competitors from all corners of the globe. Trust me the competition is high ! But I chose to aim for my pro card with them because they're focused on doing the best for their athletes – providing a great experience, and giving their winners fantastic opportunities with sponsors, magazines and photographers. They really understand how hard we work and the challenges we face and are incredibly supportive."
This time Alex competed in the Bikini Diva category. But unlike many of her rivals, Alex is no classic weight loss story. In fact, her story is quite the opposite. In her early 20s, Alex struggled with anorexia, bulimia and depression. Her journey from small town Ireland, to international fitness competitions may seem out of the ordinary, but it touches on problems that so many women face nowadays: low self-esteem, poor body image, and emotional eating.
After overcoming these challenges and setting up two fitness businesses, Alex entered the competitive circuit and quickly attracted attention from the media, sports brands, and followers alike. She has been featured in modelling shots and written articles in a variety of magazines including WBFF's Fit and Firm, ExtraFit (Qatar); and UK magazines Women's Fitness, Ultra Fit, and Fitnorama; and is a UK sponsored athlete for sports nutrition company Gaspari – a highly-sought after role in the fitness industry.
More recently, international fitness celebrity Jennifer Nicole-Lee has selected her to be one of the elite group of fitness models to accelerate their careers through her Fitness Model Factory. She said: "Alex is a future international fitness celebrity in the making. Being a leader in the fitness industry, and only working with the best, I was thrilled to see her apply at http://www.FitnessModelFactory.com . I was impressed with her amazing physique, smile, and camera presence … Alex is fabulous!"
Alex can be found at http://www.alexandrawilson.com, blogging on the Gaspari website http://gasparinutrition.co.uk/alex-wilson.html, on Twitter http://www.twitter.com/TheAlexWilson, and on Facebook http://www.facebook.com/pages/Alexandra-Wilson-Fitness-Celebrity/194488277270458
###