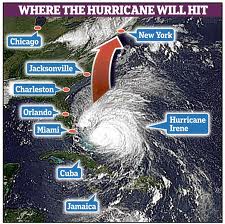 One thing we should all learn from Hurricane Irene is that we need to prepare for the unexpected.
New York, NY (PRWEB) September 02, 2011
"We communicated with all of our clients well ahead of the storm in preparation for what Irene might bring." said Kieran Higgins, a managing partner at ITP. "From there, the precautions taken really varied client by client based on their locations around the affected area. We had some declare a formal emergency on Friday and put their disaster recovery plan in motion, and we had others simply unplugging hardware before leaving the office." he continued.
But in all cases, ITP clients knew that their data, their applications and their email systems were safely housed in secure, redundant data centers and out of harm's way. "We've engineered our client's "Private Cloud" environments in such a way that we knew returning to productivity on Monday morning was only a matter of them accessing the nearest WiFi connection." Higgins said confidently.
Disaster Recovery and Business Continuity Plans are front and center this week and everyone should be taking the opportunity to review how their business will react to future events. For the investment advisory market that Investment Technology Partners serves, these issues are heightened because advisors have a fiduciary responsibility to perform for their customers. "Look at Monday, the Dow was up some 255 points after closing up 135 on Friday. If you are a Financial Advisor, RIA etc….you had to be connected to your client accounts, your models and to the markets," said Christopher Anderson, ITP's head of business development. "We've heard of guys in Berwyn, PA who are sitting idle because their office, their servers and their terminal access is without power. That's unacceptable," he said.
Hosted IT and Private Cloud Computing are certainly here to stay and IBM has written a compelling broad market overview entitield "Cloud Computing Payback: An Explanation of Where the ROI Comes From" that discusses the expected ROI achieved by moving from local, in-house computing to a hosted environment. Between an earthquake and a landfalling hurricane just this past week, the reasons are compelling enough to go hosted regardless of any immediate ROI.
For Investment Technology Partners, they offer not only expertise in delivering that hosted IT, but also two decades of familiarly with the investment management industry. They understand the added requirements SEC compliance puts on an IT infrastructure. This experience unquestionably sets them apart in their market and to their clients.
For more information contact Investment Technology Partners at 212-587-8700 or info(at)investtechpartners(dot)com. Visit http://www.investtechpartners.com
###