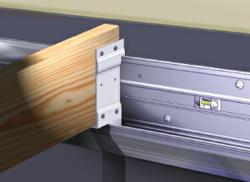 SIGMADEK has developed a completely new product category in durable outdoor deck components conceived and engineered to solve the dangerous problem of collapsing wood decks and railings
(PRWEB) September 13, 2011
SIGMADEK Ltd. announced today two major advances for its innovative outdoor component decking system that replaces traditional wood members, stairs and railings with durable, easy-to-assemble aluminum structures.
SIGMADEK Ltd. aluminum decking systems will be distributed to U.S. retailers through Parksite, a cutting-edge sales, marketing and distribution company based in Batavia, IL. Parksite, with ten locations in the eastern U.S., represents only quality building products researched and evaluated by its experienced staff. The Calgary-based SIGMADEK has also signed the multi-billion dollar Sapa Group to be SIGMADEK's manufacturing partner of its award-winning aluminum decking products, said Tory Weber, chief executive officer of SIGMADEK. Sapa, based in Stockholm, is the leading company in its field with operations in more than twenty countries.
"Parksite has a great track record in bringing new and innovative products to market," said Weber "We are particularly pleased to have signed major players like Parksite and Sapa as partners." The excitement is mutual at Parksite. "Innovative new products are a life blood to the building industry, mentioned Scott Thomas, director of marketing for Parksite. "Having the chance to bring something revolutionary to market that can change the way people conceive and design a deck is an excellent opportunity for our Company and our customers. True innovation is hard to come by," he went on to say.
"Safe Strong Sustainable"
SIGMADEK has developed a completely new product category in durable outdoor deck components conceived and engineered to solve the dangerous problem of collapsing wood decks and railings. The U.S. Consumer Product Safety Commission estimates that over 6,600 people annually are injured by collapsing wood decks, with more suffering injuries or even death from failed wood stairs and railings. High-maintenance wood decks generally last less than ten to fifteen years, and wood deck failures are increasing at the alarming rate of 20 percent annually, with more than 40,000 deck failures last year. Virtually all wood-deck collapses occur when decks are occupied.
In 2010, SIGMADEK received a "Best Design" award at the International Aluminum Extrusion Competition. Many of SIGMADEK™ low-maintenance outdoor deck components are lighter than wood, much stiffer, and never rot, rust, or decompose.
About Parksite
Parksite is an employee owned company that provides a combination of direct sales, market development and progressive distribution services within the building materials supply chain. We recognize that each customer, manufacturer and product has unique requirements and we customize our services to meet those needs. Parksite defines its position in the supply chain by investing resources in activities that result in accelerated market acceptance of new products. More information about Parksite and its products is available at http://www.parksite.com.
About SIGMADEK™
The enterprising Canadian company produces three revolutionary and distinctive outdoor deck systems made of fully-engineered, high-quality aluminum guaranteed to last a lifetime: SIGMADEK™ outdoor decks, LIFELONG™ deck support posts and deck post-beam connectors, ledger board and the do-it-yourself PATIO-IN-A-BOX™ kit in a range of sizes. All come with full lifetime warranties and can easily be assembled within hours rather than days because there is no cutting. SIGMADEK is a privately-held company with more than 300 shareholders. It is based in Calgary, Alberta. More information available at http://www.sigmadek.com
###