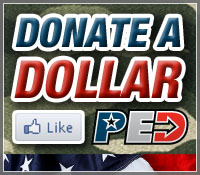 Power Equipment Direct is proud to partner with Operation Support Our Troops – America, whose efforts go to make the lives of our troops overseas a little more like home
Bolingbrook, IL (PRWEB) September 01, 2011
Throughout the month of September, Power Equipment Direct will donate $1.00 for each person that "Likes" them on Facebook to Operation Support Our Troops – America.
"Companies are looking for innovative ways to show support for our troops and we are grateful that Power Equipment Direct chose to partner with us for this program," said Deb Rickert, president and co-founder of Operation Support Our Troops - America. "For every 25 Facebook Likes during this program, Operation Support Our Troops - America will be able to ship one 25 pound box to a hero serving in harms way."
"Power Equipment Direct is proud to partner with Operation Support Our Troops – America, whose efforts go to make the lives of our troops overseas a little more like home," said Jon Hoch, founder and CEO of Power Equipment Direct.
Operation Support our Troops – America is dedicated to providing comfort and care to active duty military, families and veterans by sending comfort packages to American troops serving in Iraq, Afghanistan and other locations around the world.
To help support the troops, simply visit Power Equipment Direct Facebook page and click the Like button. Each Like means $1 towards helping the troops get supplies they need.
To help support Operation Support Our Troops – America, visit their site to learn about how to get involved, make a donation or to view the top 10 items needed at this time. For more information and to see other items needed, please visit http://www.osotamerica.org.
About OSOT America – Founded in 2003, Operation Support Our Troops – America (formerly Operation Support Our Troops - Illinois) is a volunteer based non-profit organization that exists to support the needs of US soldiers and their families, from enlistment to veteran. Its primary function is to raise funds needed to sustain fellow military and veteran organizations, as well as sponsor outreach and support programs for families with deployed soldiers and families of the fallen. Additionally, OSOT America educates the local, regional and state community about the needs of our soldiers and sends comfort packages to troops serving in harm's way while advocating on a national level. OSOT America provides the link between the citizen and the military person so that everyone has the opportunity to express their support to those who serve. OSOT America is based in Naperville, IL with warehouses in Lisle, IL. Additional information is available at http://www.osotamerica.org.
Power Equipment Direct operates nine niche online superstores. The Bolingbrook, IL-based company operates AirCompressorsDirect.com, ElectricGeneratorsDirect.com, PressureWashersDirect.com, SnowBlowersDirect.com, MowersDirect.com, WaterPumpsDirect.com, SumpPumpsDirect.com, ChainSawsDirect.com and LogSplittersDirect.com.
###