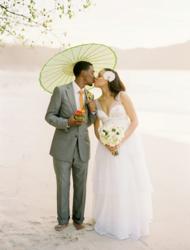 Aimee Monihan, owner of Tropical Occasions, said, "More than 15% of all weddings are destination weddings. It's only natural brides and grooms choose Costa Rica with the country's natural beauty and the 'something-for-everyone' range of activities."
Playa Herradura, Costa Rica (PRWEB) September 02, 2011
Costa Rica's leading vacation rental company (its principal, Mark Mead, was named "villa rental specialist" by Conde Nast Traveler magazine) teams up with Tropical Occasions, the country's best wedding planners. The result is a seamless experience for brides, grooms, friends and family who travel to this gem of a destination known for its natural beauty and abundance of activities.
Mead Brown Costa Rica Vacation Rentals creates a one-stop solution for destination weddings by partnering with Tropical Occasions, the wedding planners. Mead Brown offers comprehensive concierge services; they can arrange virtually anything guests require. This boutique firm offers professionally managed villas and premium condominiums. All rentals include daily housekeeping and wifi. Most include VOIP for free calls to North America.
Tropical Occasions was the first wedding coordination company in Costa Rica. They have been in the business longer, have designed and planned more weddings, and have more combined years of event planning experience than any other company in the country. Owner and principal planner Aimee Monihan started the company in 1999 and continues to expand the business. The company is known for a high degree of creativity; and--even more important--for their dependability, which is critical in a developing country where small tasks can present big challenges.
Costa Rica, with its natural beauty, is perfect for weddings. It does sometimes seem as though this beautiful nation, fringed with 750 miles (1200 kilometers) of pristine gold and white beaches, all adorned with untold millions of tropical blooms, was designed to host the perfect destination wedding.
There are so many stunning settings available in beautiful Costa Rica, a romantic mélange of steaming hot springs, wondrous waterfalls, and waves that reflect the glittering stars. Sprinkled throughout this natural wonderland is Central America's sweetest collection of luxury vacation rental properties, each awaiting wedding guests' arrival with every pleasure they could wish for.
Tropical Occasions can plan every detail of a wedding ceremony, from photography and flowers to transportation and paperwork. They can organize small, intimate nuptials, as well as bigger, flashy events. A specialty of the firm is sunset ceremonies, and even ceremonies on a boat. Tropical Occasions hones its expertise with more than 50 events each year.
Aimee Monihan, owner of Tropical Occasions, said, "More than 15% of all weddings are destination weddings. It's only natural that many brides and grooms choose Costa Rica as the venue to celebrate their wedding with friends and family, given the country's natural beauty and the 'something-for-everyone' range of activities."
Michael Brown, president of Mead Brown, adds, "With easy access—direct flights from Atlanta, Houston, Dallas, Miami, Orlando, Denver are all under four hours; New York and Chicago are about five hours—and low airfares, getting everyone to Costa Rica can be faster and cheaper than traveling from one coast of the U.S. to the other."
Adventurous couples who feel especially close to Costa Rica could even ask about a traditional Tico wedding. These are elaborate affairs, steeped in Roman Catholic ritual, and attended by both extended families. The bride usually wears a lacey dress and veil, while the groom says his vows in a shirt embroidered by his future wife. The classic ceremony is followed by a big party, with lots of food, live music, and dancing.
Though that pristine beach, streaked in sunset hues, may seem like just a dream, it's easier than one may think to begin a marriage here in the world's happiest place. Whether one needs accommodations for guests, an archway lavishly draped in heliconias, a vegetarian buffet, or even a honeymoon as wild or as pampered as newlyweds always imagined, it's simple to set up in Costa Rica.
###