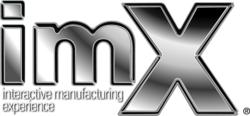 A healthy domestic manufacturing industry is vital to our nation's economic recovery. At imX, we're working collaboratively to strengthen our manufacturing base.
Las Vegas, NV (PRWEB) September 01, 2011
The inaugural Interactive Manufacturing Experience (imX) summit on U.S. manufacturing will feature the first public address by newly appointed U.S. Chief Manufacturing Officer Michael Molnar, panels led by industry experts from Boeing and Lockheed Martin and a gala event celebrating the bright future of the American manufacturing industry. Taking place Sept. 12 to 14, 2011 in Las Vegas, the goal of imX is to chart a new course for the future of the domestic manufacturing industry by fostering collaboration among American manufacturers of all sizes.
The interactive industry panels and Molnar's keynote address complement an agenda designed to address the critical shortage of skilled manufacturing workers and other industry challenges while also showcasing some of the most advanced machine tool technology on the market.
Manufacturing executives may learn more and apply to attend imX at http://imxevent.com.
Expert Industry Panels
Daily interactive industry panels during imX will enable executive guests to engage directly with leading end users and industry observers on topics ranging from future technologies to automation and benchmarking. Each session will feature opportunities for audience members to pose questions to the panelists. Panels take place each day from 1 to 2:30 p.m. They include:
Monday, Sept. 12 – "Market & Technology Outlook: Charting a Course for the Future"
A panel of industry experts will join in an interactive discussion that will focus on the outlook of key markets and how future enabling technologies impact the way many manufacturers do business.
Featured panelists:

William J. Geary, Director of Mid-Body Assembly, The Boeing Co.
Michael Packer, Vice President, Manufacturing Strategy & Technical Integration, Production Operations, Lockheed Martin
Peter Schutz, CEO, Porsche AG (Retired)
Rob Wildeboer, Executive Chairman, Martinrea International
Moderator: Rick Kline Sr., President, Gardner Publications, Inc
Tuesday, Sept. 13 – "The Edge Factor: Best Practices in Manufacturing Automation"
The owners of Straitline Components share their successful transition from a job shop to creators of a line of mountain bike components now used by some of the top competitive racers in the world. With help from advanced automation systems, Straitline today competes successfully against manufacturers all over the world.
Featured panelists:

Jeremy Bout, Executive Producer, The Edge Factor
DJ Paulson, Owner, Straitline Components
Dennis Paulson, Owner, Straitline Components
Mike Montgomery, Freestyle Mountain Bike Rider
Moderator: Pete Zelinski, Senior Editor – Special Projects, MODERN MACHINE SHOP
Wednesday, Sept. 14 – "Top Shops: Benchmarking Your Machining Business"
Based on a comprehensive survey of nearly 200 machining businesses, this panel identifies optimal shop floor practices as well as operational and business metrics that define world-class competitiveness in discrete parts manufacturing.
Featured panelists:

Derek Korn, Senior Editor, Modern Machine Shop
Ron Woosel, President, C&R Manufacturing
Mike Dufford, Vice President, Altech Machining
Moderator: Travis Egan, Publisher, Modern Machine Shop
"The panels are one of several interactive opportunities imX attendees will have to connect in a meaningful way with other industry leaders," said event experience manager Steve Prahalis. "imX isn't only focused on the trade show floor. We're going far beyond that to create real value for attendees by offering Learning Labs, Experience Zones, Knowledge Bars and other components designed to enable collaborative learning and relationship development."
All imX industry panels are presented by Gardner Publications.
Gala
The event's Tuesday night gala, "An Evening of eXploration," will be a celebration of the present and future of U.S. manufacturing, and one of the premier industry networking events of 2011. Guests will have unprecedented opportunities to interact with government officials, executives, sales teams and decision-makers from some of the world's largest manufacturers. Highlighting the gala, starting at 6 p.m. in the Bellagio Grand Ballroom, will be Jim Carroll, speaking on "Aligning your company's strategy for the future through innovation," followed by an awe-inspiring special performance by Cirque du Soleil.
"Manufacturers need to talk to each other and work together to continue building the momentum that is driving the recovery of the U.S. economy," Prahalis said. "Conversations starting at the imX gala or on the event floor will lead to partnerships and other collaborations that will advance the future of manufacturing in America."
First Address by New U.S. Chief Manufacturing Officer
Having just begun his tenure as the U.S. Commerce Department's first Chief Manufacturing Officer, Molnar will address manufacturing leaders from across the country at 9 a.m. on Sept. 12 in the imX opening day keynote address. He will share information about how individual manufacturers can participate in and benefit from the new national Advanced Manufacturing Partnership launched recently by President Barack Obama.
The Partnership "brings industry, universities and the federal government together to invest in emerging technologies," and demonstrates the President's commitment to "building domestic manufacturing capabilities to create the new products, new industries and new jobs of the future," according to the U.S. Department of Commerce.
"A healthy domestic manufacturing industry is vital to our nation's economic recovery," said Peter Borden, president of imX partner the American Machine Tool Distributors' Association. "Our leaders in Washington know it, and the industry knows it. At imX, we're coming together to determine how to work collaboratively to strengthen a manufacturing base that will continue creating jobs for American workers and provide a solid foundation for sustained economic growth."
Jim Carroll and retired Porsche AG CEO Peter Schutz also will present keynote speeches at imX.
In addition to the keynote presentations, opportunities for conversation, thought leadership and collaborative learning at imX will include a series of Learning Labs hosted by leading experts, intimate Knowledge Bar conversations and displays of the latest manufacturing technology innovations from exhibitors nationwide.
The Event
The inaugural imX will feature one of the nation's most pivotal gatherings of manufacturing executives, nonprofit leaders and government officials working together to chart a course for the future of an industry that is vital to the American economy. At imX, the manufacturing industry will, for the first time, come together not as competitors but as collaborators with a common goal and focus of long-term industry viability. Participants will meet to discuss and foster an understanding of the challenges and opportunities facing their customers and their competition, and to explore the latest manufacturing technology.
The imX manufacturing summit is a collaboration among eight leading machine tool manufacturers and two national industry associations. The event's founders are executives from eXperience Partners DMG/Mori Seiki U.S.A., FANUC, Kennametal, MAG IAS LLC, Makino, Methods Machine Tools, Okuma America and Sandvik Coromant. imX is jointly presented by leading industry associations American Machine Tool Distributors' Association (AMTDA) and the Society of Manufacturing Engineers (SME).
To apply to attend imX, or for more event information, visit http://imxevent.com. For the latest event details, follow imX on Twitter at http://twitter.com/imxevent or find the event on Facebook at http://www.facebook.com/imXevent.
About SME:
The Society of Manufacturing Engineers (SME) is the premier source for manufacturing knowledge, education and networking. Through its many programs, events, magazine, publications and online training division, Tooling U, SME connects manufacturing practitioners to each other, to the latest technologies and to the most up-to-date manufacturing processes. SME has members around the world and is supported by a network of chapters and technical communities. A 501(c)3 organization, SME is a leader in manufacturing workforce development issues, working with industry, academic and government partners to support the current and future skilled workforce.
About AMTDA:
Founded in 1925, the American Machine Tool Distributors' Association is a trade association dedicated to advancing the marketing of machine tools in the United States through distribution. The 250 machine tool distributor members represent the latest in manufacturing technology and machine tools in the international marketplace. These companies encompass over 80 percent of all distribution sales in the United States and serve as a vital link between builders and end-users of machine tools and related products.
###