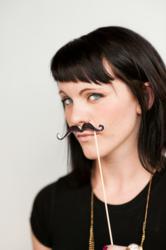 Spark has given me the opportunity to do what I love in an atmosphere that is both lively and inspiring
Bethlehem, PA (PRWEB) September 01, 2011
Lehigh Valley's award-winning advertising and public relations agency, Spark, (http://www.sparkcreatives.com) has hired Tiffany Lillegard as Designer. Lillegard will create designs, illustrations and graphics for a range of clients, including Martin Strings, Olympus, Discover Lehigh Valley, PPL EnergyPlus and Emeril Lagasse's restaurants at The Sands Casino Resort Bethlehem.
"I am thrilled to be working for an agency with such high standards and abounding creativity," said Lillegard, "Spark has given me the opportunity to do what I love in an atmosphere that is both lively and inspiring."
Lillegard started at Spark as a graphic design intern in December 2010. Her stellar artistic talent and positive attitude made her hire an easy decision when a full-time position presented itself. Prior to her time with Spark, Lillegard attended school at Montana State University where she earned degrees in painting and graphic design.
She has an impressive fine arts background, having studied encaustic painting and art history in Perugia, Italy. There, she gained exposure to a number of European design influences.
About Spark
Spark is dedicated to groundbreaking creative approaches designed to help organizations build their brands, enhance their images and improve their bottom lines. The advertising agency was formed to fill a hole in the Eastern Pennsylvania ad scene — an agency relentlessly devoted to creativity. The firm's 2010 capitalized billings topped $6 million.
Spark is actively seeking new clients that share the company's creative philosophy. Interested companies can contact Michael Drabenstott at (484) 821-0920 x 704 or drabenstott(at)sparkcreatives(dot)com.
###