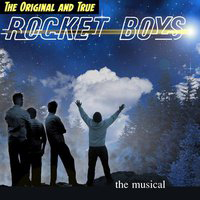 Rocket Boys The Musical debuted to sellout crowds and standing ovations this past weekend at Cliffside Amphitheater.
Beckluy, West Virginia (PRWEB) September 03, 2011
Homer hits a home run with Rocket Boys The Musical which opened with sold-out shows and standing ovations. Now the team is gearing up for the final weekend in West Virginia's Cliffside Amphitheater in Grandview State Park.
The play relates to all audience's and is a story very well known in the Mountain State. The Coalwood, West Virginia native Homer Hickam's Rocket Boys is a New York Times #1 bestseller and was made into the hit Hollywood movie October Sky. The book was a runaway worldwide hit, has been translated into dozens of languages, and is now considered a modern American literary classic. In fact, by most accounts, Rocket Boys has become the most read book by students in U.S. schools.
Now, the beloved story that put the far southwestern corner of West Virginia on the world map has been re-imagined as a Broadway-bound stage play Rocket Boys The Musical.
"When it comes to the songs for the show, it was key to get the right people involved, and I couldn't be happier with the creative team of Diana Belkowski, Dan Tramon and Carl Anthony Tramon. These Broadway veterans have composed a terrific soundtrack for Rocket Boys; I wouldn't be surprised to see some of these songs wind up on the pop charts", said Hickam of the family team behind the Rocket Boys The Musical's memorable soundtrack. The multi-talented trio includes brothers Carl Anthony Tramon, (who co-wrote the playbook) and Dan Tramon, and sister Diana Belkowski, who serve as lyricists and composers of the show's top-notch soundtrack.
The Artistic Director Marina Hunley-Graham is an excellent stage director and so positive and "uniting" that the impossible can be achieved on a regular basis! Traits of my brother Carl, by the way, so no wonder they operate so wonderfully directing the show together, along with the equally talented eye of co-director Rich Jagunic. And, the cast is just terrific. The two terrific leads here in West Virginia, Chris Bellinger (Homer) and Katherine Yacko (Elsie) are easily Broadway-worthy, just exceptional actors. I know Carl is enjoying sharing a stage with this talented cast while bringing his own Broadway experience with. Everyone here shines in his or her own way, or we wouldn't have cast them. And the tech department in this show should take their own bow each night! The pyro' effects and lighting design personnel are terrific and tireless", according to Diana, referring to the challenges the crew faces in bringing the famous rocket launches and Coalwood Olga coal mine to life nightly on the stage.
Before the current fully staged production by Theatre West Virginia, the trio was instrumental in Rocket Boys The Musical's successful industry readings in New York City, Los Angeles and Huntsville Alabama, where Hickam now lives. The show was a winner of the New York ASCAP / Disney Musical Theatre Workshop and ANMT's Search for New Musical Voices, and is likely headed to Broadway, where it's already well known to theatre insiders there.
The brother-sister-brother creative team assembled an all-star cast for the ASCAP reading in New York including Broadway vets like West Virginia's own Mark McVey (Les Misérables, Tommy) Terri Klausner (Sophisticated Ladies, Evita), Joseph Kolinski (Les Misérables, Titanic) and television star Robert Picardo (Star Trek, Stargate Atlantis). So, how does the Theatre West Virginia cast and crew compare to those Broadway A-listers? Great, says Diana, who has been on-site in West Virginia for the show's rehearsals and performances.
As for sibling rivalries among the members of this theatre family, Dan says that it's not an issue. "The interesting thing about working as brother and sister is that sibling disagreements actually can fuel the fire. In any team, one spurs the other on to be better and better. If we disagree about a passage, lyric, or chord change, eventually one of us gives in to the other, realizing the other way is perhaps better, or we compromise, which often turns out to be the best choice." Or, as Diana puts it, "Somehow we are truly blessed with being able to see and deal with each other as separate professionals apart from family; when we are working we turn on a switch. I tell people all the time I actually forget I'm talking to one of my brothers. When we write, Dan is my co-composer; when we're in the run of a show, Carl is my director. Period. If life or family issues intrude we mutually switch back to deal with it and come back "in character" I guess you'd say!"
Theatre West Virginia's presentation of Rocket Boys The Musical continues nightly thru Sunday September 4th at Cliffside Amphitheater in Grandview State Park. Call (304) 256-6800 for tickets or purchase them on-line at http://www.theatrewestvirginia.com. Homer Hickam is expected to attend the Saturday and Sunday night performances and will be on hand to greet friends and fans after each performance.
###