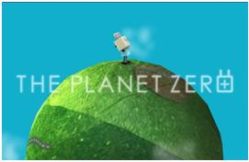 "A beautiful computer graphic world" - Japanstyle.info
London, UK (PRWEB UK) 5 September 2011
Roxik and design studios Dwarf Inc. have joined creative forces to develop the wonderful world of 'THE PLANET ZERO', a website that imagines a world with zero emissions.
On 'THE PLANET ZERO', users engage with characters that each portray a different kind of renewable energy: The amiable big furry monster 'Taiyo-Sun' embodies the solar power while the playful 'P-raffe' symbolizes the wind power and the hero of the story 'PLUG' guides us through the site and zero-emission adventures.
Helped by 'THE PLANET ZERO' inhabitants, users will become familiar with a zero-emission world though information about climate change, renewable energy and electric vehicles (EV).
Set in unique gaming environments, a series of interactive games sees users animate 'The Planet Zero' creatures to tackle challenges revolving around energy consumption and environmental issues.
Further to interacting with the original characters of 'THE PLANET ZERO', users can enjoy a series of short films directed and produced by top interactive and animation artist, Roxik, and Japanese studio, Dwarf Inc.
The films star multiple elements and characters of 'The Planet Zero' and prolong the vision of a zero-emission world.
Last but not least, the 'FLIP BOOK STUDIO' is a section of the website dedicated to user-generated content giving users "an opportunity to draw the future" (Tuneneo Gouda, Dwarf Inc.).
Here in the 'FLIP BOOK STUDIO' everybody can share their vision of a future with zero-emission by uploading their flipbook featuring 'Plug' or his friends. Anyone in need of inspiration can check out the exclusive tips from special guest and legendary stop motion artist and founder of Dwarf inc. Tuneneo Gouda.
'THE PLANET ZERO' consisting of four initial stages will be developed as the campaign builds up.
NOTES TO EDITORS:
Nissan Motor Co, Ltd brings 'THE PLANET ZERO' to experience a zero emission society and launches the Nissan Leaf, a new 100% electricity powered car.
Roxik is a renowned Japanese interactive director who has brought to life some of the most cutting edge online environments so far, thanks to pioneer 3D engine.
Dwarf Inc. studios are the design masterminds behind Domo Nation, a widely popular social network and stop-motion animation series that revolves around the friendly creature 'Domo' and a cheerful bunch of lovely creatures.
'THE PLANET ZERO' Promotion Website Creative Staff
Character development / animation: Dwarf Inc.
Website planning: ENJIN Inc.
Website creation: Masayuki Kido, ROXIK
Music: OTOGRAPH
###