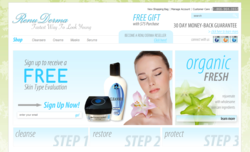 The Fastest Way To Look Young Again!
Charlotte, NC (PRWEB) September 07, 2011
Now more than ever, society is taking heed of warnings about using chemicals on their bodies and in their homes. Since many anti-aging products and facial cleansers have harsh chemicals that can be harmful to the skin and body, it was important for RenuDerma to create products that not only work great, but don't have chemical ingredients.
Specializing in anti-aging products, RenuDerma takes pride in being on the cutting edge of skincare technology, offering anti-aging-organic-skincare-products made with certified organic ingredients that provide quick results.
RenuDerma started out with three generations of skin care knowledge and experience, as well as development experience. The team realized there were no genuine, all-natural anti-ageing products that contained only 100% certified organic ingredients. While implementing advanced technology in skincare, they made these products themselves.
RenuDerma only uses the finest natural ingredients, at the highest recommended dosage amount, including alpha lipoic acid, peptides, Moisturizers, antioxidants, and anti-inflammatory ingredients. When using these anti-aging products, results appear quickly. And customers don't have to worry about placing carcinogens and chemicals on their face.
In fact, their products don't have petroleum, parabens, mineral oil, synthetic color or fragrance. A fragrance can be added at the customer's requests. RenuDerma goes so far as to avoid chemicals, that some of their products do not contain SPF because it would have to be a chemical SPF. Chemical SPFs are absorbed into the body and can cause serious health problems with long-term use.
In addition to introducing a new line of fantastic all-natural beauty products, RenuDerma has launched a new website so customers can purchase these wonderful products from just about anywhere in the world. This website allows customers to create an account to easily track their purchases. The website also provides details about all RenuDerma's new products, including their line of anti-aging products and natural facial cleaners.
Not only does RenuDerma care about helping people achieve healthy skin, but they also provide superior customer service. Customers can call the company with any questions or suggestions and the friendly staff will graciously provide the answers. This dedicated staff will do everything in their power to ensure that all customers are well informed about natural beauty products and that they are happy with the results.
RenuDerma has a 100% Satisfaction Guarantee. Anyone that is not happy with their purchase can return the products for a full refund within 30 days of the purchase date.
It is evident by the high-quality beauty products and the 100% Satisfaction Guarantee, that RenuDerma is a company that truly loves what it does. Their "yes we can" spirit alone sets them apart from other companies in this competitive industry.
For more information about RenuDerma and their line of natural beauty products, please visit their website at: http://www.renuderma.com.
###