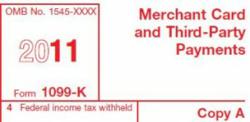 Longleaf highlights the top ten ways the Form 1099-K will impact tax preparation for businesses in 2011.
Atlanta, Georgia (PRWEB) September 02, 2011
Longleaf Technical Services, LLC (Longleaf), an independent forensic and financial services firm headquartered in Atlanta, Georgia, reports that as the New Year approaches, many businesses are in store for a rude awakening. The new 1099-K is the latest IRS reporting requirement designed to eliminate unreported income for businesses that use credit cards.
The new tax laws for issuing 1099s will create an unprecedented change in the way credit card income is reported to the IRS. "Payment Settlement Entities," such as credit card companies, PayPal, banks and some third party processors, are now required to report deposits made to taxpayers. With 2010 estimates of unreported income approaching $2 trillion dollars, the IRS is determined to recapture a significant portion of the unreported "non-cash" dollars through the 1099-K. Michael Thompson, Managing Director of Longleaf Technical Services believes much of this additional tax will be collected from businesses selling through e-commerce portals, such as E-bay, Amazon or off-shore gambling websites. Further, Mr. Thompson states "for the e-commerce companies using one of these mediums for commerce, yet not reporting all of their income, this requirement of reporting all gross credit card income for 2011 will be the year of reckoning."
The elimination of a portion of the estimated $425 to $475 million dollars that companies evade each year in taxes is just the beginning of the IRS goals. Here are three of the top ten highlights Longleaf believes every taxpayer should know about complying with the 1099-K:
1. The new 1099-K form has an interesting characteristic that is quite different than any other 1099. The reporting of income is "month-to-month" rather than yearly. The IRS made this unique design to aid federal agencies in assessing the period in which income will be earned. However, be certain that state agencies, such as Sales and Use, will also use this form to determine the proper period for sales tax assessments. In the future, states may easily issue "minimum thresholds" of income subject to Sales and Use tax, as well as "anticipated" income based upon credit to cash ratios.
2. The new 1099-MISC also provides instructions for taxpayers that exclude payments that are now reported on the 1099-K. Specifically, below is an excerpt of the new instructions for the 2011 1099-MISC:
"Payments made with a credit card or payment card and certain other types of payment, including third party network transactions, must now be reported on Form 1099-K by the payment settlement entity under section 6050W and are not subject to reporting on Form 1099-MISC. See the separate instructions for Form 1099-K."
Service companies must beware. Companies who historically received 1099-MISC should look closely this year to ensure the payees have correctly calculated the 1099-MISC income, with the exclusion of the 1099-K income when applicable.
3. Off-shore bank account information will be captured for U.S. taxpayers. There is an exception to this rule in 2011 that will be short-lived for companies where the payment settlement entity is uncertain as to whether the entity is a U.S. entity.
The capturing of offshore income has been a hot topic for the IRS for many years. The IRS discovered a method capturing a portion of income paid to offshore banks related to U.S. taxpayers.
A full copy of the top ten things companies should know about the 1099-K may be found at http://www.longleaftech.com/News.html.
About Longleaf Technical Services, LLC (Longleaf)
Longleaf Technical Services, LLC (Longleaf) is dedicated to helping companies protect, preserve and enhance enterprise value against increasingly complex economic, legal and regulatory environments. In addition to tax and accounting services, Longleaf provides valuation and investigative services to clients facing internal fraud, business damages, litigation, bankruptcy, financial distress, or cash flow difficulties
Longleaf's founder, Michael Thompson, CPA/ABV, CFF, CFE, has more than 20 years of experience in the financial and accounting industry focusing primarily on accounting damages, fraud investigations and accounting expert witness services. Mr. Thompson has served as CEO, CFO and Risk Manager for firms facing complex financial crisis and has extensive experience valuing damages and has significant experience and expertise in managing staff, offices and companies. More information can be found at http://www.longleaftech.com or e-mail us at contact(at)longleaftech(dot)com.
###