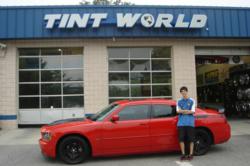 None of this would have been possible without the help of Tint World® and my dad.
Cary, North Carolina (PRWEB) September 06, 2011
By tinting customer vehicles at his father's Tint World® automotive business in Cary, North Carolina, Austin Silver, son of Randy Silver, has gained valuable job experience, and at age 16 has already earned enough from his first job to buy a ride of his very own. Austin started working part time at his father's business two years ago after learning to apply tint in his father's North Carolina window tint and auto acessories shop. Sharing his father's passion for automobiles, Tint World® became Austin's first job, which he worked throughout summers and part time during the school year. He is the youngest Tint World® employee, and after only two years has now earned enough to put an $11,000 down payment on his first car.
As far as first cars go, Austin is certainly riding in style with his 2006 Daytona Edition Dodge Charger which he immediately fell in love with. The vehicle was in near pristine condition, having only one previous owner, and Austin has already used his skills acquired from Tint World® to give the vehicle a custom tinted look. Window tinting his new Charger is only the first of Austin's improvements, however, and he has plans to continue styling his ride with new Rockford Fosgate amplifiers and subwoofers to enhance his audio system.
"None of this would have been possible without the help of Tint World® and my dad," Said Austin. "Working at Tint World® has been a fun and meaningful experience, and it has been great to learn window tinting and work with so many exciting vehicles. As a car guy, Tint World® is the coolest place in town to work and the work is even cooler now that I can use my skills on a vehicle of my own."
Austin's experiences exemplify the family-friendly nature of Tint World® Automotive Franchise, and prove it a great place for any auto enthusiast to work. Austin continues to enjoy working with his father Randy at Tint World®, where he expects to learn more about the business, and continue to use his new skills to customize customer cars and his own vehicle.
About Tint World®
Established 1982 in Tamarac, Florida, Tint World® is now the leading franchised provider of automotive, residential, commercial, and marine window tinting and security film services in the US. Tint World® Automotive Franchise also offers auto security, mobile electronics, performance and styling accessories, custom wheels and tire packages, auto detailing, and reconditioning services.
###