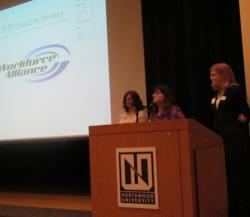 West Palm Beach, FL (PRWEB) September 01, 2011
Workforce Alliance Career Placement Specialist Kristin Kampfer received recognition as a "Success Story" by the Palm Beach County Business Leadership Network (BLN) during the 2011 "Making Connections" Conference held at Northwood University. Holly Stewart, Chair of the Palm Beach County Business Leadership Network, introduced Kristin Kampfer as a true success story who excelled in her accomplishments after assuming a professional position with Workforce Alliance earlier this year.
Kristin, with a simultaneous verbal and sign language presentation, explained her role at Workforce Alliance in providing assistance to persons with disabilities who wish to enter the workforce or start on a career.
Sharyn Hancock, Business Services Program Supervisor and Disability Program Navigator for Workforce Alliance, followed up by explaining Kristin's achievements during the past year as a key staff member at the company. "Because of Kirsten's proficiency with sign language, Workforce Alliance no longer has to depend on outside contractors when communicating with customers having a hearing-related disability. We merely call for Kristin! This saves Workforce Alliance a good deal of money each year. She has also improved our service to the public and the deaf community by increasing the number of individuals that we can successfully serve."
The Palm Beach County Business Leadership Network promotes the employment of people with disabilities through diversity policies and hiring practices that target candidates with disabilities through education, support and awareness. It offers employers resources for recruiting candidates with disabilities, information on disability employment issues, recognition for best employment practices, and exposure to untapped markets for goods and services.
Seventeen employers attended the event which was sponsored by the Able Trust, United Way, the Coalition for Independent Living Options (CILO) and several other community organizations. The conference gave employers information and the opportunity for discussions on disability employment issues, as well as providing recognition for success stories and best disability employment practices.
Workforce Alliance is the non-profit company chartered by the State of Florida to develop and manage a workforce system in Palm Beach County. It operates three Career Centers and two Executive Transition Units and offers its professional services to all employers and job seekers in Palm Beach County.
Note to editors and reporters: Kristin was the subject of a recent news/sports article that appeared on The Post Game that also featured her brother Steve, a professional hockey player on the Stanley Cup-winning Boston Bruins. If interested in this additional information about Kristin (referred to as 'Miracle Kid' in the article), you may click on this URL: http://www.thepostgame.com/features/201108/how-miracle-kid-inspired-bruins-defenseman-steven-kampfners-stanley-cup-dream
# # #