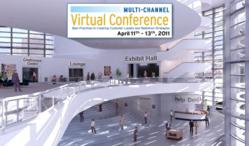 There has been tremendous growth in virtual conferences and we expect this trend to continue. . We expect over 1,000 attendees for our November Best Practices in Workforce Management and Performance Optimization Conference.
Montvale, NJ (PRWEB) September 07, 2011
Contact center professionals from around the world had a firsthand opportunity to learn best practices for their centers through a series of on-line virtual conferences produced by Cyber M@rketing Services (CRMXchange). More than 2,000 contact center executives from 30 countries were brought together to exchange ideas with peers and learn from experts about the major challenges faced by customer care professionals. Without leaving their offices, attendees learned online from industry experts about management of multi-channel customer touch points, new developments in quality assurance, and optimization of speech analytics.
With over 800 registrants for each event, the April Multi-Channel conference featured industry experts who presented ideas and issues in managing social media, chat, Web, phone, text, and email. Attendees to the June Best Practices in Quality Assurance and Speech Analytics conference had 12 live events to choose from where they discussed how to use quality assurance and speech analytics to improve their customers' contact experience.
CRMXchange virtual conferences share practices and technologies used by the most successful customer care centers. As with all CRMXchange virtual events, the conferences are fully interactive and all customer care professionals within an organization are able to participate, a benefit that would be unrealistic for an on-site conference.
Virtual conferences have become major industry events. Sheri Greenhaus, Managing Partner of CRMXchange, states "There has been tremendous growth and we expect this trend to continue. The virtual nature of these conferences makes tremendous sense, especially when the internet has become the first point for gathering information for most people. We expect over 1,000 attendees for our November Best Practices in Workforce Management and Performance Optimization Conference, which we produce in conjunction with The Society of Workforce Planning Professionals."
Across the two conferences, attendees learned from industry leaders including Yankee Group, The Call Center School, AVOKE Caller Experience Analytics at Raytheon BBN Technologies, Avaya, Siemens, Enkata, NICE, Verint, Utopy, and VPI. Post conference surveys reveal that some attendees feel vendors at conferences often pitch their products during their presentations; whereas, virtual conferences offer an abundance of excellent, usable information with a limited amount of sales "stuff".
CRMXchange is the premiere destination for information on relationship management solutions, including: customer interaction best practices, CRM programs, training, and other valuable industry resources. In 2008, CRMXchange became the first and only company to offer virtual conferences for the contact center industry.
For more information about upcoming virtual conferences, visit http://www.CRMXchange.com, http://www.ecrmevents.com, or contact Sheri Greenhaus or Larry Matte at (201) 505-1743.
###