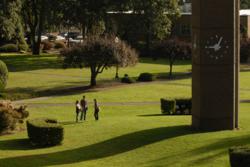 Newberg, Ore. (PRWEB) September 02, 2011
For the first time in more than 40 years, George Fox University will host its homecoming festivities in the fall this year. All alumni are invited to return to the school's Newberg, Ore., campus Friday through Sunday, Oct. 7-9, for the school's 2011 homecoming celebration.
All former students of the university and its predecessors – Pacific College, George Fox College and Western Evangelical Seminary – are invited to attend the events, which include affinity reunions for biology and chemistry majors, seminary attendees, and those who were members of the school's drama troupe, the University Players.
"After many years, it was time to re-imagine homecoming," said Robby Larson, director of alumni relations. "Moving this annual celebration to the fall allowed us to completely redesign the schedule of events to provide more opportunities for alumni to connect with one another and their alma mater. Our staff is excited for these significant changes and are sure that alumni will be as well."
Reunions also are set for the classes of 1951, 1971, 1981, 1986, 1991 and 2001. The weekend will include an alumni celebration brunch, an outdoor tailgate party, women's volleyball and soccer games, and a one-man theatre performance featuring 1991 alumnus Rich Swingle.
Attendees are also invited to attend campus tours; a student/alumni networking event; lectures presented by business professor Dirk Barram, history professor Caitlin Corning and former biology professor Dale Orkney; a young alumni social at Subterra restaurant in Newberg; and a homecoming worship service on Sunday morning.
Also, for those who graduated before 1962, a Classic Bruins Breakfast is scheduled from 8:30 to 10 a.m. on Sunday. The event concludes with a Sunday brunch in the remodeled Klages Dining Room.
As always, homecoming will include a ceremony to recognize the 2011 Honored Alumni Award recipients: Dwight Kimberly (Heritage Award), Barbara Baker (Outstanding Alumnus Award), Margaret (Maggie) Holmes (Outstanding Recent Alumna), Linda Byrd (Christian Service Award) and David Wright (Seminary Alumnus of the Year). They will be honored at the alumni celebration brunch, scheduled from 9:30 to 11:30 a.m. on Saturday.
Class reunions for the 10- through 60-year groups will take place at an all-new homecoming gala scheduled from 7 to 10 p.m. Saturday at the nearby Chehalem Cultural Center, located at 415 E. Sheridan St. This semi-formal event is open to all alumni and is the cornerstone of the redesigned homecoming schedule.
To register, see the weekend schedule or learn more specifics, visit homecoming.georgefox.edu or call 503-554-2131.
George Fox is bringing homecoming back to the fall in preparation for the return of intercollegiate football in 2013. George Fox is bringing football back after a more than 40-year hiatus from the sport.
George Fox University is ranked by Forbes among the top Christian colleges in the country. George Fox is the only Christian university in the Pacific Northwest classified by U.S. News & World Report as a first tier national university. More than 3,400 students attend classes on the university's campus in Newberg, Ore., and at teaching centers in Portland, Salem, and Redmond, Ore., and Boise, Idaho. George Fox offers bachelor's degrees in more than 40 majors, degree-completion programs for working adults, five seminary degrees, and 11 master's and doctoral degrees.
Contact:
Robby Larson
Director of Alumni Relations
503-554-2130
# # #