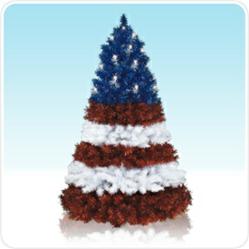 The Stephan J. Colbert National Treasure Tree has been renamed the Vote For Me Tree to unite with the Nation in celebrating this special day for American workers.
South San Francisco, CA (PRWEB) September 06, 2011
Treetopia ™, a leading online source for cool and funky artificial Christmas trees, has changed the name of one of its red, white and blue trees to commemorate Labor Day this September. The Stephan J. Colbert National Treasure Tree has been renamed the Vote For Me Tree to unite with the Nation in celebrating this special day for American workers.
"On July 4th, 2010, Treetopia ™ announced the renaming of this particularly patriotic artificial tree to the Stephan J. Colbert National Treasure Tree, a name chosen by our customers," says Carrie Chen, spokesperson of Treetopia ™. "This year, we renamed it in time for Labor Day to honor the millions of hard-working and dedicated Americans that are the real backbone of the Nation and make our country what it is today." Ms. Chen stresses that the Vote for Me Tree is a fun yet fitting tribute to American workers for Labor Day 2011, whether as employer or employee.
America has been celebrating Labor Day every first Monday of September since 1882. A federal holiday based on a tradition of the Central Labor Union, it is an offshoot of the labor movement in the late nineteenth century. Labor Day is dedicated to America's workers, their social and economic achievements, and their significant contributions to the Nation. Although Labor Day was first celebrated in New York City, the Central Labor Union urged worker's organizations in other cities to celebrate the holiday annually. By 1885 Labor Day celebrations had spread to many industrial centers, and it has now become an annual, US government-endorsed holiday dedicated to the men and women of America's working class.
"For many, Labor Day marks the beginning of end of the summer," Ms. Chen explains. "At the seasons close, our customers like to celebrate with barbeques and pool parties before the chill autumn air comes." Treetopia ™ suggests pairing lighted palm trees with their Vote For Me Tree when decorating a Labor Day party to bring an extra-funky and summery edge to the festivities. Apart from the large selection of artificial palm trees and artificial Christmas trees, the Company also carries artificial garlands and wreaths for indoor or outdoor decorating.
Treetopia ™ also made clear that while wearing white after Labor Day is a fashion faux pas for homo sapiens, trees tend to see nothing wrong with it. Treetopia ™ has a wide offering of white Christmas trees, perfect for Labor Day decorations, or any other winter holiday.
For more information please visit http://www.Treetopia.com.
About Treetopia
Treetopia.com is an online store featuring a diverse selection of artificial Christmas trees. Featuring traditional artificial Christmas trees, white artificial Christmas trees, black artificial Christmas trees, pink artificial Christmas trees, silver artificial Christmas trees, lime green artificial Christmas trees, purple artificial Christmas trees, upside-down artificial Christmas trees, lighted palm trees, trimmings, tree skirts and decorations. Treetopia has something for everyone. They sell exclusively online through http://www.treetopia.com.
###