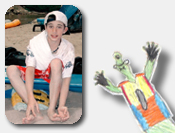 They are an inspiration to me as they continue to fight to rid the world of the disease that took their son, Wylie.
Glenn Freezman
Horsham, Pa (PRWEB) September 02, 2011
Family Abstract, Inc. a real estate title insurance company in Horsham, PA is again, this year helping promote the CHOP (Children's Hospital of Philadelphia) Four Seasons Parkway Run and to support the Wylie's Day Foundation. The Four Seasons Parkway Run is an annual event that raises money to fight childhood leukemia and Wylie's Team, one of the largest teams to participate, was able to raise $25,000 last year for the cause.
Wylie Strotbeck lost his battle with a brain tumor in 2005. Through his courageous fight and the efforts of his parents Stephanie and John and brother Max, Wylie's Day was created to provide direct funding for medical research toward finding a cure for pediatric brain tumors so that one day no child (or family) will need to suffer through such a difficult journey.
From the Wylies Day website ... Our mission comes out of our personal experience of caring, loving and traveling through a journey no parent ever asks to go with their child. Wylie Strotbeck is our inspiration. He entered our lives February 18, 1992. He was our joy. We called him Smiley Wylie. He was diagnosed with a type of brain tumor called a Medulloblastoma in December of 2003 in the prime of his youth. This is the most common of all the childhood brain tumors, but not the easiest to cure. Thirteen years is not a very long time to live, but that is what Wylie Strotbeck was given. It was a very rich and loving life, but far too short for any child. Please read more at http://www.wyliesday.org/
Family Abstract Partner, Glenn Freezman considers it an honor to participate. "I have been friends with the Strotbeck's for years and it is my personal wish that no other child will ever need to go through what Wylie went through. While a cure for pediatric brain tumors isn't available yet, I feel confident that the proceeds raised through Wylie's Day and the Four Seasons CHOP run can help make a difference in the lives of children in the future. It's also a fun event and a chance to hang out with some very nice people."
Local runners/walkers wanting to join Wylie's team or make a donation to the cause can do so at http://giving.chop.edu/goto/wyliesday
======================================================================
Established in 2002, Family Abstract, Inc. provides Title Insurance to clients and customers throughout Florida, Maryland, New Jersey and Pennsylvania with more than 50 years of combined experience in management alone. We pride ourselves on retaining the most skilled and knowledgeable employees who share our goals of providing the best service in the industry.
Located in Horsham, Pennsylvania, Family Abstract, Inc. maintains an extensive network of skilled title insurance abstractors in all the states we service in addition to a nationwide network of qualified closing agents who are available to close loans at any location.
Backed by the strength of four title insurance underwriters, we are able to provide expert attention to detail without sacrificing versatility in the closing process, thus providing more options in difficult title situations.
Due to our depth of industry knowledge and commitment to excellent service, Family Abstract, Inc. has been able to develop client relationships that have endured for decades. Having successfully settled and insured thousands of transactions, we have already earned the trust and confidence of hundreds of customers, lenders, brokers, and realtors and now we would like to share our expertise with you!
###