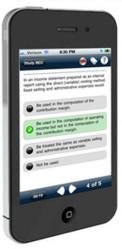 These state-of-the-art advancements in personalized learning for a mobile society are crucial steps toward developing qualified, credentialed professionals in accounting at this time. --CEO and President, Rahul Srivastava
Sedona, Arizona (PRWEB) September 08, 2011
CPAexcel CPA Review, a global provider of CPA Exam study courses proudly announces the latest in its series of technological advances that have revolutionized the world of CPA Review Courses.
These recent advancements arrive at a crucial time for aspiring CPAs. Over the next decade, more than 70% of CPAs will retire. CPAexcel is leading an effort to help fill this deficit and train the next generation of accountants to hold the important and prestigious title of CPA.
Recognized as the leader in Computer-Based CPA Review, CPAexcel has now made its top performing review courses and study materials available on mobile platforms including Smart Phones, Kindles, and Tablet devices such as the iPad.
CPAexcel students can now prepare to pass the CPA Exam with full course functionality on their PC, laptop, tablet, or Apple iPad. They can also supplement their course with the CPAexcel Mobile App. Students can now use down time to achieve higher exam scores by testing and reinforcing their knowledge while on the go.
Demonstrating again its technological leadership, students using CPAexcel can now move seamlessly from one device to another, pick up right where they left off and see their most recent study status. CPAexcel is the only CPA review course offering the convenience of synchronized learning.
The innovations that underlie CPAexcel's unrelenting pursuit to help students pass the CPA Exam have helped to make CPAexcel the best choice in CPA Review.
Students and accounting professionals looking to further their career are encouraged to visit http://www.cpaexcel.com
About the CPA Exam and CPAexcel CPA Review:
The CPA Exam (also known as the Uniform Certified Public Accountant Exam) is a very challenging professional licensing exam. Less than half of accountants who take the exam actually pass.
CPAexcel offers a dynamic computer-based learning system that prepares students and accounting professionals to pass the CPA Exam. Unique in the industry, CPAexcel CPA Review course materials are structured in Bite-Sized Lessons that keep users focused and increase motivation and retention. CPAexcel also provides students with unlimited free updates and free course repeats.
CPAexcel is published by Efficient Learning Systems, Inc., a privately-owned company located in Sedona, Arizona.
For additional information on CPAexcel CPA Review courses, please visit http://www.cpaexcel.com.
Contact details:
Julie Snow
CPAexcel
(928) 204-1066
julie(dot)snow(at)cpaexcel(dot)com
###