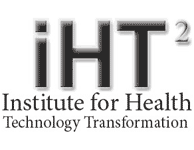 Increased auto ID and barcoding implementation in healthcare offers significant improvement in quality of patient care, reduction of errors, and improved cost efficiency
New York, NY (PRWEB) September 02, 2011
The Institute for Health Technology Transformation announced the speakers for their panel session entitled, "Structure, Process, & Strategy to Derive Value from EHRs" at the Institute's Health IT Summit in New York City taking place September 20-21, 2011 at The Westin New York at Times Square.
The panel will be moderated by Lynne Dunbrack, Analyst, IDC Health Insights. Speaking will be Michael Ries, MD, MBA, Medical Director, Adult Critical Care and eICU, Advocate Healthcare; Ed Ricks, VP of IS & Chief Information Officer, Beaufort Memorial Hospital; Talya Miron-Shatz, Research Fellow, University of Pennsylvania – Wharton School; John Cox, Chief Information Officer, Sago Managed Service; and Glenn Aspenns, Senior Media Applications Analyst/Product Manager, Intermec.
This panel will address the challenges healthcare organizations have in innovation and addressing different hurdles they face with fresh, unique perspectives. Areas of focus will include: effectively measuring the value of an EHR, implementing mobility and telehealth applications, and creating a patient-centered care environment.
"Increased auto ID and barcoding implementation in healthcare offers significant improvement in quality of patient care, reduction of errors, and improved cost efficiency," said Glenn Aspenns. "The reliable information provided by these systems lays the foundation for EHR implementation and other IT initiatives."
The iHT2 Health IT Summit in New York City is the premier executive summit focused on the strategies and tools that are re-defining customer care, collaboration, and efficiency in the health care provider markets. The summit will bring together over 200 CIOs, VPs, and Directors of IT from hospitals, health systems, and larger physician practices to discuss the latest trends and challenges in topics including: Telehealth, mHealth, Meaningful Use, Accountable Care Organizations, Privacy & Security, Interoperability, Health Information Exchange, Cloud Computing, and more.
Sponsors and Partners for the 2011 iHT2 Health IT Summit in New York City include: Apixio, Axway, Availity, BoxTone, Catalyst Solutions, Verilogue, EDIMS, EXACT, ICA, ICW, ID-Tech Solutions, Intel, Intermec, MEDSEEK, Microsoft, MMR Information Systems, MyHealthDirect, Presidio Networked Solutions, MedPlus, SAGO Networks, Surgical Information Systems, Vidyo, VMware, AMDIS, CMIO, Continua Health Alliance, DOTmed, eHealth SmartBrief, Executive Insight, Frost & Sullivan, Healthcare IT News, IDC Health Insights, LIPIX, Manhattan Chamber of Commerce, MarketsandMarkets, Massachusetts Health Data Consortium, Mobile Healthcare Today, NYHIMA, ReportsandReports, and SearchHealthIT.com.
About Institute for Health Technology Transformation:
The Institute for Health Technology Transformation is the leading organization committed to bringing together private and public sector leaders fostering the growth and effective use of technology across the healthcare industry. Through collaborative efforts the Institute provides programs that drive innovation, educate, and provide a critical understanding of how technology applications, solutions and devices can improve the quality, safety and efficiency of healthcare. http://www.ihealthtran.com
###