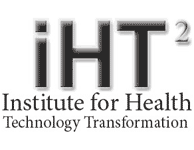 Quality improvement and Clinical decision support are like siamese twins/brothers separated at birth, but meet again, when they are grown up, and suddenly realize how much important they are for each other's survival
New York, NY (PRWEB) September 06, 2011
The Institute for Health Technology Transformation announced the speakers for their panel session entitled, "Aligning Health IT and Quality" at the Institute's Health IT Summit in New York City taking place September 20-21, 2011 at The Westin New York at Times Square.
The panel will be moderated by Ken Ong, MD, MPH, Chief Medical Informatics Officer, New York Hospital Queens. Speaking will be Kshitij Saxena, MD, MHSA, Medical Director, Adventist Health System – Information Systems; Don Lindsey, Chief Information Officer, Tallahassee Memorial Hospital; Darlene Vindittelli, IT Director, Children's Hospital Boston; Pradeep Goel, Enterprise Chief Information Officer, Noridian Mutual Insurance Company; and Dan Dearing, Group Director, Mobile Security Strategies, BoxTone.
The panel will focus on the different iterations of IT in the healthcare setting, specifically addressing how quality of care increases as clinical IT systems become more integrated and more fully mobilized.
"Quality improvement and Clinical decision support are like siamese twins/brothers separated at birth, but meet again, when they are grown up, and suddenly realize how much important they are for each other's survival," said Kshitij Saxena.
The iHT2 Health IT Summit in New York City is the premier executive summit focused on the strategies and tools that are re-defining customer care, collaboration, and efficiency in the health care provider markets. The summit will bring together over 200 CIOs, VPs, and Directors of IT from hospitals, health systems, and larger physician practices to discuss the latest trends and challenges in topics including: Telehealth, mHealth, Meaningful Use, Accountable Care Organizations, Privacy & Security, Interoperability, Health Information Exchange, Cloud Computing, and more.
Sponsors and Partners for the 2011 iHT2 Health IT Summit in New York City include: Apixio, Axway, Availity, BoxTone, Catalyst Solutions, Verilogue, EDIMS, EXACT, ICA, ICW, ID-Tech Solutions, Intel, Intermec, MEDSEEK, Microsoft, MMR Information Systems, MyHealthDirect, Presidio Networked Solutions, MedPlus, SAGO Networks, Surgical Information Systems, Vidyo, VMware, AMDIS, CMIO, Continua Health Alliance, DOTmed, eHealth SmartBrief, Executive Insight, Frost & Sullivan, Healthcare IT News, IDC Health Insights, LIPIX, Manhattan Chamber of Commerce, MarketsandMarkets, Massachusetts Health Data Consortium, Mobile Healthcare Today, NYHIMA, ReportsandReports, and SearchHealthIT.com.
About Institute for Health Technology Transformation:
The Institute for Health Technology Transformation is the leading organization committed to bringing together private and public sector leaders fostering the growth and effective use of technology across the healthcare industry. Through collaborative efforts the Institute provides programs that drive innovation, educate, and provide a critical understanding of how technology applications, solutions and devices can improve the quality, safety and efficiency of healthcare. http://www.ihealthtran.com
###