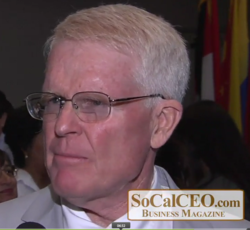 It is vital that the county support small businesses - especially minority owned businesses
Riverside, CA (PRWEB) September 13, 2011
Riverside County Office of Foreign Trade, part of the Riverside County Economic Development Agency in partnership with the Greater Riverside Hispanic Chamber of Commerce, Inland Empire Asian Business Association, and The Riverside County Black Chamber of Commerce, was host to the 2nd Annual Inland Empire Multicultural Biz Fest held at the county administrative center. This annual event gave all businesses, whether they are employers or employees, the opportunity to "Appreciate our Diversity and Acknowledge our Differences."
The theme of this year's event was "International Business". The event focused on international trade and was host to county supervisors, foreign diplomats and business leaders who are looking to develop and/or expand into existing markets overseas.
Tom Freeman, commissioner of the county's Office of Foreign Trade stated that, "Even though domestic sales are down, international sales have been on the rise." He went on to say, "Events like this are a great opportunity for businesses to learn about resources like loan guarantees, exporting assistance, trade issues and more." Over 300 guests listened to County Supervisor Bob Buster,Brazilian Consul General Jose Lima, and others talk about the opportunities for trade between the county and Brazil. Supervisor Bob Buster stated it is vital that the county support small businesses - especially minority owned businesses - in any way they can, as this creates many jobs. Tom Freeman added that the county has geared up to assist these businesses in developing contacts which will assist them in expanding into new markets - especially overseas.
Southern California CEO was able to talk to a variety of attendees about the importance of this event including Joel Ayala, Director of the Governor's EDA office. Mr. Ayala stated that Riverside County is ripe for growth opportunities in countries like Brazil, China, Russia, India and more. He also said the state's goal is to match foreign partners with local businesses and the only way the state is going to achieve this goal is one business at a time. Frank Montes, director of the Inland Empire California Hispanic Chambers of Commerce believes events like the Biz Fest are important because they bring together the elements of the African American, Asian, and Hispanic communities. These events are crucial in promoting the development of small businesses here in the Inland Empire and across the entire state of California.
The County's EDA's Office of Foreign Trade assists local business owners in export and import assistance with the objective of creating new jobs and investments within the county. This office also exists to promote the use of the North American Free Trade Agreement, Central American Free Trade Agreement, and existing trade agreements or treaties. These treaties open markets for goods and products produced within the County of Riverside that are manufactured, or grown in Riverside County. Office of Foreign Trade is strategically placed within the Economic Development Agency to have direct access to the vast resources, support, and assistance from its team of highly dedicated professionals within the agency.
If you are interested in learning how they can help grow your business in the international market, please contact:
Tom Freeman
Foreign Trade Commissioner
tomfreeman(at)rivcoeda(dot)org.
###