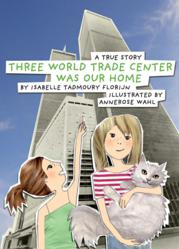 (PRWEB) September 06, 2011
A new children's picture book offers parents a way to discuss 9/11 with their children. A True Story: Three World Trade Center Was Our Home is about two sisters who lived in the hotel between the twin towers. While there is no mention of the terrorist attacks in the story, the book is intended to help parents talk about what happened.
This is a true story. The author, Isabelle Tadmoury Florijn, lived as a child with her sister in the hotel when her father was the general manager. The two sisters lose their cat, Felix. He runs away as the girls search for him in the World Trade Center complex. Young kids can follow along and look for the cat on every page. Most of the photos outside the twin towers and inside the hotel are real.
The book is dedicated to the victims of the Marriott World Trade Center. On September 11, 2001, hundreds of people fleeing the north tower arrived in the hotel where workers steered them to the street exit. While there is no exact account of how many casualties there were, we do know that two hotel employees and at least 40 firefighters who were using the lobby as a staging ground, perished that day.
The illustrations are a combination of real photos with 3-dimensional drawings that lends itself well for a digital format. The book is currently available via Apple iBooks and http://www.lulu.com. A hardcopy edition is expected to become available before the end of the year. For more information on the book and to view a sample, please visit http://www.isabelletadmouryflorijn.com
###