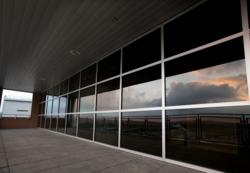 Denver, CO (PRWEB) September 03, 2011
Denver-based RavenBrick (http://www.ravenbrick.com ) has announced that the company's high tech, energy-efficient window technology, RavenWindow, have just been installed at the US Department of Energy's National Renewable Energy Laboratory's (NREL) Research Support Facility (RSF) building in Golden, Colorado. The NREL building is considered to be one of the world's largest "zero-energy" office buildings, having been awarded the Leadership in Energy and Environmental Design's (LEED) highest rating, platinum. RavenBrick installed 31 windows, totaling over 400 square feet, at NREL. RavenWindow will also be installed in the RSF's new wing, currently under construction.
The company's smart window transitions from the clear state, where free solar heat is allowed into the building when desired, to a tinted state, blocking unwanted solar heat from entering the building upon hitting a pre-set temperature. Building energy modeling has shown that the patented filter can reduce energy consumption in a commercial structure by up to forty percent.
RavenBrick CEO, Alex Burney, further announced that the company is in the final phases of a plan to purchase a high speed automated production line for its windows that will produce 5 million square feet of product annually. "And we plan to ramp up hiring to where we have 130-plus employees by 2015," said Burney. The company currently has 14 employees.
RavenBrick recently received $275,000 loaned from the City & County of Denver for job creation, in addition to $700,000-plus loan from the Governor's Energy Office for entrepreneurship and job creation. The company has raised $6 million in angel capital and is currently raising a venture capital round of another $6 million.
RavenBrick's growth mirrors that of the cleantech industry, a bright spark in a very gloomy jobs environment. Cleantech jobs are growing at a 17.4 percent annual rate in Colorado, according to nationally-renowned economist Mark Muro. That's double the cleantech national average and huge compared with jobs in general.
About RavenBrick
Founded in 2006, RavenBrick is a Denver-based cleantech company that has developed patented and patents-pending thermochromic filter technology to manage solar heat gain in windows. As buildings are responsible for 40% of the energy used in North America, the ability to manage solar heat gain in windows, the area of the biggest waste of heating and air conditioning, is essential to upgrading the building's thermal performance in a cost effective way. To learn more about RavenBrick, please visit http://www.ravenbrick.com
Tags: RavenBrick; smart windows; intelligent windows; energy efficiency; green building; green construction; green architecture; nanotechnology; clean tech; green tech; Colorado business; window filter; heating and cooling costs; solar-control window technology.
###