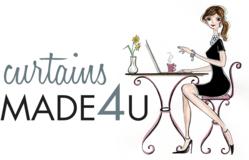 While there are plenty of ready-made curtains to be found online, no one else is selling true custom curtains in this quality.
(PRWEB) September 02, 2011
When the decorating bug hits at 10 p.m., consumers can turn to CurtainsMade4U.com, a new online venture for custom draperies featuring fabrics from Calico Corners – Calico Home. "While there are plenty of ready-made curtains to be found online, no one else is selling true custom curtains in this quality," states Julie Morris, director of custom products for the nationwide retailer.
"Calico is famous for its selection of fine fabrics for the home, plus the quality and value of our custom window treatments," says Morris. "We're bringing the same great workmanship, plus an easy selection process, to those who prefer to shop and decorate from a laptop on their own schedule." And, she adds, everything is made in the USA.
After lots of comparison shopping, Morris can state that retail prices for Curtains Made4U are less expensive than other well known online and retail sources. "Custom doesn't mean costly if you know where to shop," she says proudly.
It all starts with a great fabric
Calico Corners – Calico Home is noted for its fashion-forward fabrics and designer collections—and many of these are in the assortment of 500+ fabrics in Curtains Made4U. "We have fabrics from DwellStudio, Thom Filicia Home, Iman Home, Thomas Paul and Robert Allen for Calico Corners-Calico Home," notes Morris. Those are in addition to a beyond-the-basics assortment of linens, dupioni silks and stripes, ikat and ethnic patterns, graphic and contemporary looks, floral designs and much more.
Custom made simple
"Designing your own window treatments through Curtains Made4U is a fun process," says Morris. A virtual designer, Olivia, has been created to guide consumers through three steps—in any order desired.
1. Select a fabric—by color, by type, by collection or by lifestyle. "Instead of scrolling through pages of fabric images, we've organized the fabrics to make it easy to find the perfect one for your window," explains Morris. Lifestyle groups of fabrics include Coastal, Chinoiserie, French Country, Global, Graphic, Hunt Club, Metropolitan and Vintage.
2. Select a curtain style from six great choices. Choose from Fan Pleat, Pinch Pleat, Inverted Box Pleat, Grommet, Rod Pocket and Flat Panel styles—all available with a choice of four linings, including interlining and blackout lining. There is also a choice of luxury fullness or standard fullness. Luxury fullness is a designer option that most other sites don't offer, states Morris.
Consumers can render favorite fabrics onto the desired curtain style to visualize the finished product. "This provides a good idea of how that curtain will look when made up and hanging at the window, adds Morris."
3. Enter the window dimensions—and CurtainsMade4U will take it from there. Unlike most other online sources, these curtains can be made in almost any size or length. "We can dress windows from 2 feet wide up to 13½ feet—and from 2 feet long up to 15 feet," says Morris. "That's an amazing range of sizes." Curtains will be made to the desired length in ½-inch increments. "The hallmark of custom curtains is that they're made to fit your windows exactly," notes Morris. The starting price for a simple pair of curtains is $175 at Curtains Made4U.
Decorative metal curtain rods to finish the look
Curtain rods in nine finishes are available to go with the new Made4U curtains—chosen for quality of product and ease of installation. Designed as telescoping rods, they can span windows from 28" to 120" wide. "We chose these rods because they're 1-1/8" in diameter," says Morris. "They're much more substantial than the ¾" rods widely available elsewhere—and they look better at the window." Prices start at $90 for a single window rod and shipping is free.
To finish off the rod, there are eight styles of finials and also two styles of holdbacks to keep draperies open and off the window during the day.
Free fabric swatches, free shipping
Fabric swatches and shipping are free so that customers can see the exact color and texture before ordering. In addition, all Made4U fabrics may be purchased at CalicoCorners.com and at the Calico stores across the country—where larger samples may be borrowed to try at home. Finished curtains ship in three to four weeks, carefully packed in heavy-duty cardboard boxes designed so that the curtains don't move or crush during shipping. Curtains ship for free, and expedited shipping is also available.
###