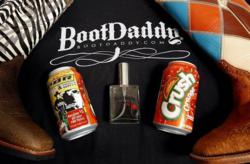 His attitude is 'I'm mad, I'm ticked off, and I'm the biggest king out here.'
Springfield, MO (PRWEB) September 01, 2011
The Professional Bull Riders announced that Pepsi has produced a special-edition Orange Crush can featuring Missouri's own Luke Snyder and PFI's Boot Daddy. The collectable cans are available now at retail locations in Arkansas, Kansas, Missouri, and Oklahoma.
Each can also features a $5 ticket discount for the PFIwestern.com Invitational presented by Bass Pro Shops on Sept. 16-18 at JQH Arena.
Tickets for the nationally televised Built Ford Tough Series event are on sale now at PFI Western Store, 2816 South Ingram Mill Road in Springfield, Mo., http://www.MissouriStateTix.com, and by telephone at (888) 476-7849 or (417) 836-7678. Bull riding begins at 8 p.m. on Friday, at 6:50 p.m. on Saturday, and at 5 p.m. on Sunday.
Snyder, who is from Raymore, MO., leads the PBR in season earnings with $273,360. He won the title of "Las Cowboy Standing" and $216,500 on April 16 in front of a sellout crowd at the Mandalay Bay Events Center in Las Vegas, and a pay-per-view audience. The $216,500 is the highest one-day payout of the 2011 season and the second-highest in history.
Co-owned by Randy Little of Springfield and Gene Owens Bucking Bulls, PFI's Boot Daddy is a regular competitor on the BFTS, including a pair of matchups this season with Snyder. PFI's Boot Daddy registered a buckoff in Kansas City, and Snyder scored 85 points in Tulsa. 2004 PBR World Champion Mike Lee earned $5,000 in Springfield in 2010 when he won the John Deere/PFI Bounty Bull Challenge by successfully riding PFI's Boot Daddy following Round 1.
Each of the Top 40 bull riders in the world will ride on Friday, Saturday and Sunday. Following Round 2 on Saturday, the riders with the 10 highest cumulative scores will each compete with one more bull. Following Round 4 on Sunday, the riders with the 10 highest cumulative scores will advance to the Built Ford Tough Championship Round where they will compete with one more bull. The overall event winner will be the rider with the highest combined score from all five rounds.
The first 22 events have produced 14 different winners, and the Top 5 riders are separated by less than 4,000 points. There are 1,400 possible points at Springfield.
The action from Springfield will be televised in HD on VERSUS live at 8 p.m. ET on Saturday, Sept. 17, and at 8 p.m. ET on Sunday, Sept. 18. BFTS telecasts are produced for the PBR by David Neal Productions, a Los Angeles-based production company led by 34-time Emmy® Award winner and Peabody Award winner David Neal, who serves as executive producer and creative lead.
The PFIwestern.com Invitational presented by Bass Pro Shops will be the 25th of 29 stops on the 2011 BFTS schedule, which began at world-famous Madison Square Garden in January. The season concludes Oct. 26-30 in Las Vegas with the PBR Built Ford Tough World Finals, and the crowning of the 2011 PBR World Champion. The World Finals are the richest bull riding event on the planet with the winner receiving the World Championship PBR Buckle and a $1 million bonus.
About the Professional Bull Riders, Inc. (PBR)
The PBR is the world's premier bull riding organization. More than 100 million viewers annually watch over 400 hours of primetime PBR programming on VERSUS, NBC, CBS and networks around the world. The PBR has awarded over $100 million in prize money and 20 riders have earned over $1 million, including Justin McBride with $5.5 million -- the most of any western-sports athlete in history. The PBR was nominated as 2010 Sports League of the Year at the Sports Business Journal Sports Business Awards, alongside the National Football League, National Basketball Association and Major League Baseball. Nearly two million fans attend Built Ford Tough Series and Touring Pro Division events each year. For more information on the PBR, go to http://www.pbr.com, or follow on Facebook at [http://www.facebook.com/TeamPBR and http://twitter.com/TEAMPBR.
###