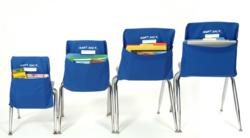 "This new product is cost effective, durable, naturally stain resistant and an all-around perfect product that I did not have to make myself." Brittany Harper, Orlando, FL
Naples, FL (PRWEB) September 02, 2011
As teachers and students get back to school this season, Seat Sack™, Inc. is pleased to announce the introduction of a new and improved fabric for their popular patented Seat Sack™ chair storage pockets made of a certified flame-retardant fabric. This past year the company worked with engineers to develop the stronger, naturally stain resistant fabric after listening to customer comments and suggestions. Seat Sack™ is so confident in their new fabric that they will offer customers a 3 year guarantee. The new fabric will first be introduced in their original royal blue color and in the subsequent weeks will release the additional colors in the new fabric.
According to President and Owner, Ann McAlear, "The new product provides a stronger, more durable, stain resistant and easy to clean fabric that teachers and parents will appreciate." After placing the Seat Sack™ product in a test market this past year, we knew we had a winner with overwhelming results stated Ms. McAlear. "Our customers were calling us to share how much they loved the quality and look of the new fabric." The new product tests up to double the strength of their original fabric with weight pressure reaching over 40 lbs. However, Ms. McAlear was sure to add that this would be more weight than anyone would want to add to the back of a chair.
"As my students work at tables, Seat Sacks™ allow my students to maintain organization at an independent level," stated satisfied customer, Brittany Harper of Orlando. "This new product is cost effective, durable, naturally stain resistant and an all-around perfect product that I did not have to make myself."
Seat Sack™ officially launched the sale of the product on September 1st with a "New Blue…Just for You Sale!" For a limited time Seat Sack™ will offer customers a chance to test the product in the new blue fabric at a special introductory price, according to Michelle Holder, Director of Marketing & Sales. In addition, customers who order 25 or more will receive a FREE gift. To celebrate the introduction the company has also launched an organizer and iPad® Giveaway on their Facebook page with special offers throughout the month of September. "It's a great time to get organized with Seat Sack™ products," stated Ms. Holder.
The Seat Sack ™ Corporation has been manufacturing the popular patented Seat Sack™ storage pocket for more than 11 years to hundreds of thousands of schools across the country and abroad. The popular patented Seat Sack™ storage pocket, slides onto the back of a chair to provide instant storage of books, papers, school supplies and more. The company offers several different models, sizes and colors to use in the home, school or office. In addition to the Seat Sack™, the company makes other desk, locker, office and classroom organizers. To learn more about these products and others, please visit http://www.seatsack.com.
# # #