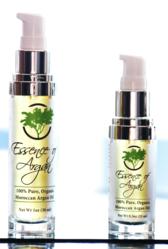 Stars from Toronto International Film Festival will be using Essence of Argan's "Liquid Gold"—Argan Oil.
Toronto, Canada (PRWEB) September 02, 2011
As the Toronto International Film Festival (T.I.F.F.) looks set to kick off September 8th, opening with U2's new documentary "From the Sky Down" from Davis Guggenheim (It Might Get Loud, An Inconvenient Truth, Waiting for Superman), stars will be flashing gold on the red carpet like never before—liquid gold, that is.
While it has recently seen its popularity increase, Argan Oil from Morocco has been a secret among the Hollywood "A-list" for many years. "Essence of Argan" will be exclusively providing selected stars with their product before they arrive on red carpets at movie premiers for this years Toronto International Film Festival.
Essence of Argan provides what many have termed, "Liquid Gold" to customers around the North America and around the world via their website. Argan Oil is extracted from the kernels of the argan tree—a unique tree found only in a small area in Morocco and is extremely rare. The product is now becoming mainstream and articles as recently as yesterday in the New York Times suggest that word is spreading quickly about this natural, organic anti-aging product. Essence of Argan's product is described as 100% pure natural organic and customers are raving about the product's ability to smooth skin wrinkles and reverse the effect of aging.
The company offers the same product that the stars will be using at TIFF this year, from their website ranging in bottle sizes of: 15ml, 30ml and 50ml.
The Toronto International Film Festival runs from September 8th-18th.
About Essence of Argan
Essence of Argan operates under LIFESTYLE ADVANTAGE LTD. It's product is certified 100% natural organic product. From their website: "Our goal is to share this miraculous product known simply as "Liquid Gold", in its pure and most natural form and to contribute to the livelihood of the Moroccan women who harvest the Argan tree."
###