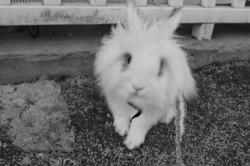 Baskets for Bunnies is going to change the lives of shelter bunnies all over the world
Greensboro, NC (PRWEB) September 03, 2011
Baskets for Bunnies, Inc. is a new nonprofit organization in North Carolina that's goal is to supply rabbit rescues with supplies so they can take in more abandoned bunnies. Every year after Easter, bunnies are dropped off at shelters, or even worse turned loose into the wild. Their care needs become too much as they become older, and uninformed owners become too overwhelmed to care for them. Then rescues are burdened with trying to care, foster and adopt them out.
Baskets for Bunnies, collects donations of food, supplies, or money to aid these already overwhelmed rescues. Less than a year ago the founder Gretta Parker adopted a rabbit from a local shelter and started him a Facebook page, as a way to tell the public about the alarming number of rabbits that are bought then abandoned each year. On his page, she met several rescues who always go above and beyond their means to rescue. They inspired her to start her own nonprofit.
For their first year they chose seven rescues. Zooh Corner, they lost their place at the San Gabriel CA Humane Society this year due to overcrowding still they continue to rescue. Little Furries Rescue, in Brown Mills, NJ they effortlessly save everything from baby rats to rabbits. They also received damage to their facility during Hurricane Irene. Gainesville Rabbit Rescue, in Gainesville, FL, was a part of the Sunshine State Rescue; they continuously save selflessly every day. Funny Bunny Sanctuary, in WV who not only provides a beautiful facility to rabbits, is looking to expand into a blind cat rescue. The Bunny Castle, in Bishop CA who is always working to save more bunnies from everywhere from golf courses to ones abandoned at the front door. The Ohio House Rabbit Rescue, who is the mastermind behind Midwest Bunfest in Columbus, Ohio on October 9th. Also in Ohio, Frisky Ferrets, Fuzzies, & Feathered Friends Rescue & Sanctuary who works on a very limited budget, but does amazing work to save as many bunnies as possible.
It is not just a onetime donation;they will support these rescues monthly with supplies and funds for food. Rescues are supposed to rescue. They are limited because of medical, food, and operating costs. In a bad economy, donations are down. They wanted to do more to help them, so Baskets for Bunnies was born from seeing the things they struggle with every day.
In the next year, they hope to expand Baskets for Bunnies to include a spay and neuter program to support rescues. Rabbits are left out of a lot of spay/neuter programs. The average cost of a neuter is about $75, and spays can range $180-$225 depending on the state. Rescues depend on donations to survive. The idea behind Baskets was to build a support network for them, so they can save their own money for expansions to house and save more bunnies.
The long term goal for Baskets for Bunnies is to expand globally, and to bring education to the plight of so many rescues and bunnies. They hope to keep adding more rescues, they already have a growing waiting list. If you are interested in learning more about them, the rescues they support, or donating please visit them at http://www.basketsforbunnies.org or find them on Facebook at http://www.facebook.com/basketsforbunnies
# # #