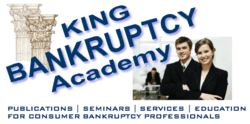 I thought I knew the subject. But when I took the Academy I realized how superficial my understanding had been. I left with a new confidence and a new competence I could not have gotten anywhere else.

Marlow Preston, Austin, Texa
San Francisco CA (PRWEB) September 06, 2011
MORGAN KING'S ACCLAIMED 2 1/2 DAY SEMINAR / COURSE AT FISHERMAN'S WHARF SAN FRANCISCO NOV. 14, 15 & 16 2011
Chief instructor Morgan King teaches:
THE LIVE COURSE IN A NUTSHELL
Taught by experienced tax and bankruptcy professionals, this is an intensive, practical, and thorough course of instruction on handling consumer bankruptcy cases with delinquent tax liabilities
Some non-bankruptcy remedies are covered as well, including offers-in-compromise and Collection Due Process appeals
The course assumes average experience handling consumer bankruptcy cases. No particular knowledge or experience with tax law is required.
Includes a 1/2 day Clinic - bring YOUR complicated delinquent tax case and let the group solve it for you at the last-day Clinic!
TOPICS COVERED:
Discharging federal income taxes, interest and penalties in consumer bankruptcy cases

Personal income taxes
Chaptefr 7
Tolling events
Using Tax Transcripts
Kinds of transcripts
How to get them
The IRS Priority Hotline
Transaction codes, etc.
Freedom of Information Act
Penalties
Interest
Sales taxes
E.D.D. taxes
941, 940
Handling tax liens
Personal income taxes in Chapter 13
Handling a tax discharge case
Using checklists
Other forms
Getting help (enrolled agents etc.)
Dealing with clients
Dealing with the IRS
Non-Bankruptcy Remedies For Delinquent Taxes
Offer-in-Compromise
Collection Due Process
Innocent Spouse
Transmutation agreements
Litigation of tax issues
INCLUDES:
Two & days live instruction
Book, King's Discharging Taxes
Book, King's Offers-In-Compromise
Online video course, Discharging Taxes
Course Materials
Breakfast (3 days Continental)
Three free tax discharge calculations
Free 1-year subscription King's TaxGram
1 month free King's IRS Offer Cruncher
3 Days Mr. King's smiling face $Priceless
TOTAL VALUE $1,986.90
TUITION $995
TOTAL SAVINGS: $991.90
DATES & LOCATION:
Holiday Inn at Fisherman's Wharf (Columbus Street)
Mon. Nov. 14 through Wed. Nov. 16 2011
BankruptcyAcademy.com
###