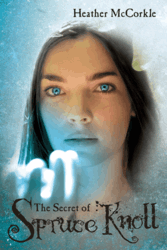 Lakeview, OR (PRWEB) September 06, 2011
In her new young adult fantasy novel The Secret of Spruce Knoll (published by Abbott Press), Heather McCorkle tells the tale of two teens with supernatural gifts who are drawn into a web of secrets and lies when they attempt to discover the truth about their parents' suspicious deaths.
As if being orphaned and forced to live with an aunt she's never met wasn't bad enough, now Eren has to deal with moving to a small town in the middle of nowhere. What she doesn't know is that the tiny Colorado town of Spruce Knoll is populated solely by channelers, people with a special connection to the Earth that allows them to channel energy and who had been driven from their homelands hundreds of years ago.
Not long after arriving Eren meets Aiden, a boy who's unlike any she's ever known – and not just because Aiden is a channeler. Both Aiden and Eren keep a dark secret close to their hearts; both of their parents' untimely deaths shrouded in mystery.
Eren slowly uncovers a power within her. But when she finds herself without Aiden, her new power threatens to overwhelm her. Eventually, she realizes the truth: she's a channeler. Her grandfather reveals the terrible truth, explaining their race is directly related to the survival of the Earth. This is an ominous lesson because it means the channelers are fated to go extinct.
Eren finds Spruce Knoll High is filled with channelers looking down on her because her family's mixed blood. The only kids who are kind to her seem to have a hidden agenda. Desperate to figure out what it is, Eren and Aiden conspire to discover the truth. They are drawn into a dangerous game that could end in justice for their parents' deaths and the end of a massacre of non-channelers – or it could lead to their deaths.
About the Author
Heather McCorkle writes young adult fantasy stories, but she also dabbles in the plethora of sub-genres under that umbrella. In addition to writing, McCorkle enjoys working with and supporting other writers, surfing social networking sites, skiing, hiking and riding horses – as a native Oregonian, she takes particular pleasure in outdoors activities. She is an avid blogger and regularly co-moderates #WritersRoad chats on Twitter.
Abbott Press, a division Writer's Digest—the oldest and most respected publisher devoted to the education and advancement of writers—is an indie-publishing imprint dedicated to helping writers bring their literary vision to print. Author Solutions, Inc., a leader in indie book publishing, will fulfill publishing, sales, and marketing services for Abbott Press. For more information, or to begin publishing a book today, log on to abbottpress.com or call 866-697-5310.
###