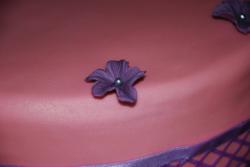 Custom cupcakes are great for corporate events or company diners, providing a touch to the edible part of the dining experience.
Loughton, Essex (PRWEB) September 03, 2011
Cheryl's Custom Cakes, a UK based custom cake designer and baker have launched their official website after 5 years in the baking industry. Cheryl's Custom Cakes have worked off-line for the past 5 years, but felt that adding a digital point of presence would be beneficial to their existing customer base, while also expanding it on-line.
Cheryl's Custom Cakes create custom, made to order wedding cakes, birthday cakes and have now started taking orders for custom cupcakes as of 2011.
Cupcakes are a popular request at the moment, and they seem fashionable to have instead of traditional "sliced" cakes at weddings, and birthday parties. Custom cupcakes provide the attendee with a whole, individual cake and not a slice off a larger cake. Almost every aspect of the cupcake creation can be customised including choice of sponge, buttercream filling and of course the sugarcraft artwork on top of the cake.
Cheryl's Custom Cakes are able to take a customers idea and create a design that will meet the customers needs, whether is be a small birthday cake or a large scale, multi-tiered wedding cake. Every cake can be created individually with attention to the finest detail.
Many of the orders placed at Cheryl's Custom Cakes are for wedding cakes, with customers needing that finest detailing and personalisation for their special day.
There are many exotic buttercream mixes and fillings that Cheryl's Custom Cakes offer, such as mint chocolate chip, German Chocolate, Rosewater, Raspberry Ripple and many more.
The designers and bakers at Cheryl's Custom Cakes have many years of experience in the baking industry and are fully experienced sugarcraft masters, with attention to detail.
Cheryl's Custom Cakes also offer a full delivery service anywhere in the United Kingdom. With free delivery anywhere with a 10 mile radius of Loughton, Essex. All of the delivery prices further than Essex are displayed on their website, along with a map.
Based in Essex, United Kingdom; Cheryl's Custom Cakes have over 5 years experience in the baking industry, with many regular returning clients and baking creations in their portfolio. Their new website provides customers a place to see their work portfolio and also place new orders with them.
###